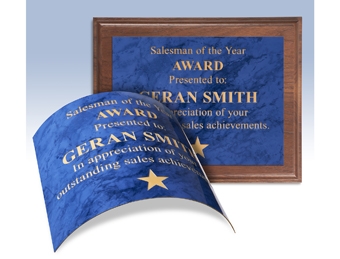 Gemini introduces its DuetsContours™ microsurfaced flexible engraving sheet stock. Designed with 0.020-inch durable acrylic, DuetsContours engraving stock provides the prominent look of engraved signage applied to a variety of surfaces, flat or curved. Available with or without adhesive, DuetsContours engraving stock is ideal for laser or rotary applications, including awards and recognition, interior branding, and retail displays.
DuetsContours offers a variety of color options, including some of the industry's most requested: brushed gold on black, white on black, trophy gold on black, and brushed satin gold on black. DuetsContours combines the elegant look of metal with an economical solution and ease of fabrication associated with using acrylic.
"Gemini is committed to providing a balanced product line with the most popular color combinations," said Gary Harder, director of Duets by Gemini. "Like all of our products, DuetsContours engraving sheet stock is manufactured in our state-of-the-art Class 10,000 cleanroom facility to ensure sheet performance, color, finish, and thicknesses are consistent and of the highest quality."
DuetsContours are available through Gemini's Duets Partner Network, which is comprised of BF Plastics, Delvie's Plastics, Diversified Sign Suppliers, Hansen Supply, JDS Industries, Nash Industries, and The JRS Company. With over twenty stocking locations coast-to-coast, DuetsContours sheet stock is now available within one day for most of the United States.
To request free DuetsContours sample swatches or to purchase a sample swatch binder for $59.00, visit DuetsByGemini.com.