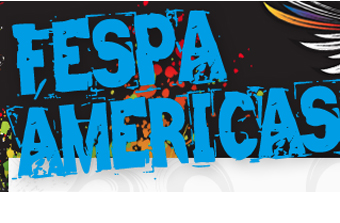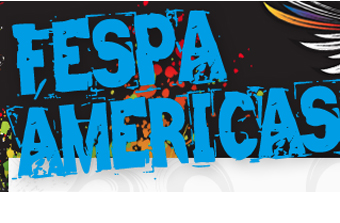 EFI™ is being featured prominently at the FESPA Americas print exhibition, February 24-26 in Orlando, Florida. EFI is the only company in the printing industry to provide integrated end-to-end workflow solutions, including web-based file submission, print MIS software, a high-performance inkjet production RIP solution, and wide-format digital inkjet output devices. The company sees FESPA Americas as a perfect venue to showcase these capabilities.
EFI will be exhibiting in booth 1601, as well as in a special event feature called the FESPA Americas Wide Format Print Shop Live. There, EFI will demonstrate their end-to-end workflow solutions, including EFI Digital StoreFront® web-to-print solution, browser-based EFI Pace™ Print MIS solution, the professional-level EFI Fiery® XF RIP, and the EFI VUTEk® GS2000 UV digital inkjet hybrid printer. Frank Tueckmantel, VP Corporate Marketing at EFI states, "Print Shop Live is the perfect venue for our solutions. It allows customers to see demonstrations that relate directly to many of the real-life situations they encounter every day."
Additionally EFI Digital StoreFront is the web-based front end that is being used by FESPA Americas to accept incoming files for scheduled workflow demonstrations for the Wide Format Print Shop Live. Digital StoreFront is EFI's web-to-print platform designed and built specifically for the printing industry. It allows printing companies to streamline workflow by offering an Internet buying experience, along with management tools to provide an on-ramp for digital print production.
Another component of EFI's integrated end-to-end solution is EFI Pace, a browser-based print management system. It helps printing companies run their businesses more efficiently by providing an easy-to-use way for printers to manage all aspects of their operation, including estimating, scheduling, job ticketing, data collection, invoicing and much more.
The EFI™ Fiery® XF high-performance RIP also will be featured. It boosts color quality and productivity for large to superwide format printers, and maximizes a print shop's investment by reducing production times, unifying your production devices and delivering accurate color on every job. For customers in North America, EFI is now offering EFI Fiery XF Color & Workflow Support Services to help increase your return on investment and enhance your product satisfaction by ensuring that you get the most from your Fiery XF production RIP for your EFI VUTEk® superwide format printer. Under this program, a Fiery expert comes to your site to perform money and time saving installation and implementation services that help you quickly produce quality prints, while reducing downtime and waste.
Scott Schinlever, the newly appointed Sr. VP/GM EFI, VUTEk, Rastek, is pleased about the company's VUTEk offering that will be on display. Says Schinlever, "Our products are more versatile than ever before; empowering customers to pursue a wider variety of applications, earn new revenue and better differentiate their business from the competition."
On display will be the EFI VUTEk GS2000 UV digital inkjet printer—a 2-meter flatbed and roll-to-roll UV printer with eight-color, white and Fast-5™ printing capability that allows printing companies to take on premium-margin, three-layer jobs like P-O-P displays, day/night backlit signs, posters and more. The VUTEk GS2000 combines exceptional color and image quality with high production speeds.
EFI and 3M have plans for a co-branded ink for the VUTEk GS2000 and GS3200 printers. With this new ink, output from the 2- and 3.2-meter printers, on 3M media, will meet the requirements of the 3M™ MCS™ Warranty, the premier graphics warranty in the industry. The ink is currently scheduled for commercial release in Q2 2011.
New ink is now available with the VUTEk GS5000r 5-meter roll-to-roll digital UV printer. Co-branded with and qualified by 3M, output from the GS5000r printed on 3M media with this exciting ink also meets the requirements of the 3M™ MCS™ Warranty. EFI customers using this ink are able to print the same applications as usual, but now with an extended range of applications offered by 3M's materials, including long-term signage, fleet graphics and reflective applications.
"The VUTEk GS5000r 5-meter digital printer is an eight-color printer with fantastic 1000 dpi quality. Its versatility allows us to print up to three 60-inch rolls simultaneously at speeds and resolutions not previously possible. We have never seen a five-meter machine with such a great combination of quality and speed. And by running the 3M ink, which sets a new high standard in adhesion and color gamut, our graphics produced on this printer will now carry the 3M™ MCS™ Warranty. This printer has been a terrific addition to our arsenal of digital printers," said Mark Auth, president, Vomela Specialty Company.
For more information about EFI integrated end-to-end workflow solutions, inks and printers and the company's appearance at FESPA Americas, visit www.efi.com.