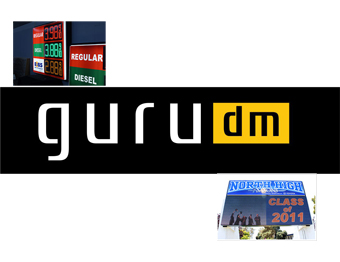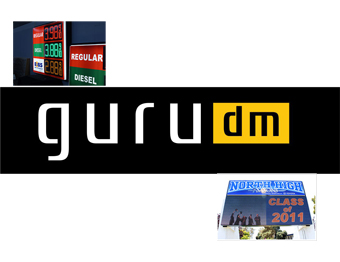 Encore Image Group, headquartered in Torrance, California, announces the official launch of their newest division, GURU Digital Media. GURU's initial product line consists of Cree® LED electronic gas price changers built to military standards. Supplying the petroleum and convenience store marketplaces, GURU's LED price changer signs are available in font sizes ranging from eight to forty-two inches, with custom sizes on request. All products carry a five-year warranty and are UL, cUL, ETL, and CE listed.
GURU is backed by fifty-five years of sign manufacturing experience. Proudly made in the USA, GURU's product line adheres to strict ISO 9001 guidelines, a certification standard required by most major purchasers. Encore's CEO, Tommy Boren, has appointed sign industry veteran Sandy H. Miller to spearhead the new division.
"Encore has assembled an impressive team of talent who are working diligently on manufacturing the best quality LED sign packages out there. Every conceivable test has been performed, proving that GURU products are built to last and endure every extreme," said Miller. "From our proprietary software to the dual power supply technology and use of Cree® LEDs, GURU is simply a market-leading innovator."
GURU also manufacturers a full line of LED electronic message centers and large electronic billboard displays. These products incorporate high-resolution, brilliant imaging and animation with full video capabilities.
For a full list of signs, specifications, technical information and how to purchase GURU products, visit www.gurudm.com.