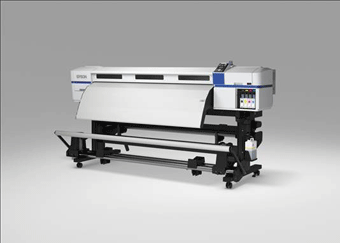 Epson America has introduced its next generation sixty-four-inch solvent printer—the EPSON® SureColor™ S30670. Incorporating Epson's latest technological breakthroughs, the SureColor S30670 is the first-ever solvent-based printer to use the EPSON MicroPiezo® TFP® print head, bringing a new level of quality, performance and value to the signage, vehicle graphics and fine art markets.
"Our first generation solvent printer—the EPSON Stylus® Pro GS6000—has been a game-changer in the signage market over the last four years, bringing advanced image quality and an ink technology with less impact on the environment to the industry to open up a new range of applications for solvent printing," said Reed Hecht, product manager, Professional Imaging, Epson America, Inc. "The new SureColor S30670 offers advancements in print head and ink technology to deliver higher quality printing, faster and better, at an extreme overall value."
The SureColor S30670 utilizes an entirely new print engine featuring Epson's MicroPiezo TFP print head to deliver droplet sizes as small as 4.2 picoliters and double the nozzle density of Epson's previous solvent printer for extremely fast print speeds.
The SureColor S30670 is a four-color solvent printer (CMYK) leveraging new EPSON UltraChrome® GS2 solvent-based ink technology. Developed exclusively by Epson, UltraChrome GS2 includes a newly formulated yellow ink that can produce prints with up to three years of outdoor durability without lamination. In addition, these new inks deliver virtually odorless printing without the need for external dryers, special ventilation or air purification systems, and do not contain Nickel (Ni) compounds, helping to reduce impact on the environment and potential harm to employees.
More About the SureColor S30670
Designed from the ground up, the SureColor S30670 introduces several new convenient features that help automate previously time-consuming processes, such as nozzle checks, media feed adjustments and media tensioning, and complicated print head alignments. Additional features include:
MicroPiezo TFP Print Head: One-inch-wide, high-performance print head with 720 nozzles per color capable of handling four separate ink channels; low vibration meniscus control provides highly accurate dot shape and placement and ink repelling coating dramatically reduces nozzle clogging.
Fast Print Speeds: Capable of up to 619 square feet per hour in draft mode with a recommended production speed of 205 square feet per hour for normal signage production.
Take in and Take-Up Reel System: Efficient take-up reel for unattended production of large print runs supporting both wind-in or wind-out; standard motorized heavy roll support system in the rear will support up to a 90-pound roll; optional high-capacity roll support available for heavy rolls up to 150 pounds.
Roll Media Loading: All new spindle-less design with manual EPSON LiftAssist allows for easy loading and unloading of heavy roll media.
High-Capacity Ink System: Individual ink cartridges up to 700 ml enable users to avoid production downtimes and maximize profitability.
Control Panel: New full-color LCD panel provides easy access to menu items and printer controls.
Media Versatility: Given the unique form of solvent ink, EPSON UltraChrome GS2 works on virtually all standard coated or uncoated solvent media, including adhesive based vinyl and sign banner media; also prints on canvas media to produce fine art prints
Pricing, Support, and Availability
The EPSON SureColor S30670 will be available in April through authorized Epson Professional Imaging resellers for a list price of $16,995. The EPSON SureColor S30670 offers a standard EPSON PreferredSM Limited Warranty, a one-year program that includes toll-free advanced telephone access Monday through Friday and usually next business-day on-site service in the unlikely event of any hardware failure. Epson Preferred Plus service plans are available that cover both the hardware and software for up to two additional years. For additional information, visit www.proimaging.epson.com.
The new SureColor S30670 will be shown at Graphics of the Americas from March 1-3 in Miami, Florida (booth #377) and at the International Sign Expo from March 22-24 in Orlando, Florida (booth #1547).
To learn more about Epson, visit http://global.epson.com.
You may also connect with Epson America on Facebook (http://facebook.com/EpsonAmerica), Twiter (http://twitter.com/EpsonAmerica and http://twitter.com/EpsonEducation), and YouTube (http://youtube.com/EpsonTV).