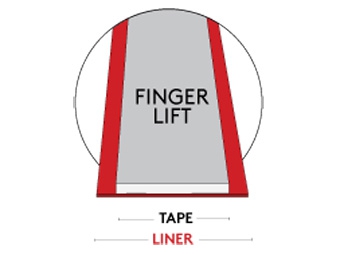 Essentra Specialty Tapes introduces six of their trusted core products available now in Finger Lift format: DK Film®, DK Film® Acrylic, DK Film® Hi-tack Acrylic, Duraco® Red, Duraco® Gold and Dubl Kote®. Additional to Essentra's core products, they are releasing three new families of box closure tapes specifically designed for overnight mailers, corrugated mailers and other applications such as transit packaging.
Finger Lift tapes are double-sided tapes that offer customers ease-of-use in terms of time and labor efficiency compared to edge to edge liners. The Finger Lift format is a dry edge liner distributed evenly on both sides beyond the width of the adhesive strip. The extended liner allows for quick and easy removal, which allows for less frustration with end-users.
Most Essentra Finger Lift tapes can be custom converted to various sizes for any project need and are suitable for industries such as Point of Purchase, printing, packaging, converting and paper splicing.
Now available in Finger Lift format:
* Duraco® Red—double-sided film tape with a see-through red liner that facilitates precise positioning of the tape to the bonded surface. Its acrylic adhesive is clear, has excellent plasticizer resistance and tolerates high temperature applications. Duraco Red is an ideal tape for hard-to-stick applications, especially UV coated material.
* Dubl Kote®—double-sided foam tape with a permanent rubber based adhesive, available in long rolls for automatic or hand application. Dubl Kote is ideal for filling spaces and conformable for bonding to many different types of surfaces.
* DK Film®—a double-sided tape with a polyester (PET) film carrier and a permanent rubber based adhesive. Rubber based adhesives quickly adhere to a variety of surfaces such as extrusions, packaging, signage, and P-O-P displays.
* DK Film® Acrylic—PET film carrier with a permanent acrylic-based adhesive on both sides. The acrylic adhesive is ideal for demanding indoor and moderate outdoor applications.
* DK Film® Hi-Tack Acrylic—permanent hi-tack acrylic based adhesive, double-coated on polyester film. This film tape is designed to perform in the most demanding applications.
* Duraco® Gold—white PVC film carrier, double coated with a permanent acrylic based adhesive that provides excellent adhesion properties. The extra thickness of this film product makes it well suited for textured or irregular surfaces.
* Box Closure—new double-sided film tape product line with a permanent rubber-based adhesive. These products increase bond strength to paper stock and corrugate substrates such as mailers and chipboard packaging. Available in three ranges, 4991 for general purpose, 4999 general purpose with thicker liner for high-speed application and 4001 for high performance.
For more information on Essentra Finger Lift tapes and to request a free catalog, visit http://www.essentraspecialtytapes.com/Finger-Lift-Tapes.