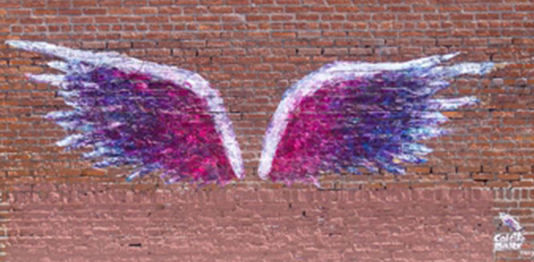 Colette Miller created the Global Angel Wings Project in 2012 in Los Angeles, the City of Angels. Her human-sized set of angel wings were painted as street art, for people to interact with and by doing so, to become part of her work. Miller's website states the purpose in making the project was "to remind humanity that we are the angels of this earth." The project gained immediate attention and the interest spread worldwide. Today, she has painted wings for street art and commissions, both in the USA and globally, in locations as diverse as Japan, Kenya, France, Germany, Taiwan and Mexico.
Pacific Coast Fabrics and Top Value Fabrics are honored to be working with Colette Miller to bring the Global Angel Wings Project to SGIA Expo 2017.
"We've been working with Colette for months to bring her wings to SGIA. Her wings captivate us as we move through our community – they are painted all over Los Angeles and throughout the world. She has generously loaned us her wings for this installation," says Kathryn Sanders, Marketing and Sales, Pacific Coast Fabrics, who spearheaded the project.
One pair of wings will be on display in each of the companies' booths, marking the debut of the wings in an application that is not hand-painted. For this feature at the SGIA Expo the wings take form in a new medium, as they are printed on fabric and will be displayed in lightbox applications. Pacific Coast Fabrics (Booth #2445) and Top Value Fabrics (Booth #2155) will each have a different set of wings featured on a 20-foot-wide wall in their respective booths.
The teams from Pacific Coast Fabrics and Top Value Fabrics hope you are inspired by Colette Miller's vision and encourage you to interact with this work of art. For this special installation, you are invited to take your photo and post it with #AngelWingsSGIA on social media. Your photo will be uploaded to the image gallery that will go live during the show at TVFMedia.com/wings.