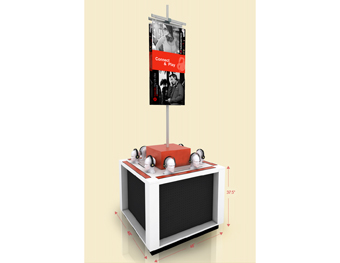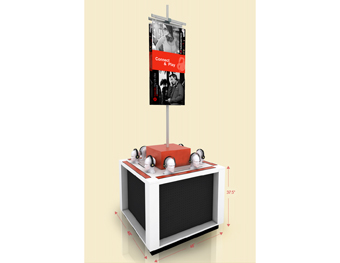 Walls + Forms just introduced an eye-catching headphone interactive display. This versatile modular display system offers an eye‐catching solution for a wide range of brand and retail display requirements with an electronics focus. It features telescopic adjustability in height and width, which allows it to provide maximum flexibility for all store environments.
The headphone interactive display pictured is proudly designed, engineered, and built by Walls + Forms in the USA and was developed in response to the growing popularity of state-of-the-art headphones for maximum enjoyment of multimedia experiences. It utilizes a height adjustable 33 mm telescoping pole for signage and power drop and draws attention to a 22-by-46-inch graphic poster (which the customer provides).
This display measures 48-by-48-by-48 inches and contains "J" channels for 4-inch ticketing, black pegboard for 6-inch hooks, and offers access panels for security and power management.
This display features a fiberglass sculpted head in a choice of black, white, or pewter color.
Display pole options are available to suit your available in-store retail space.
Scopic™ displays can be customized to meet one's specific brand and retail display requirements.
For more information, call 972/745-0800 or visit www.wallsforms.com.