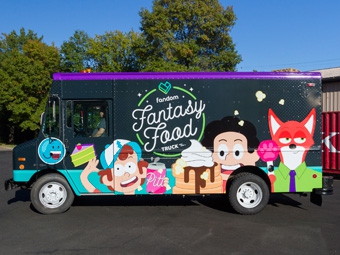 The three-day New York Comic Con takes over the Jacob K. Javits Convention Center in the heart of New York City each fall. The largest pop culture event on the East Coast, it brings a bevy of related movie and TV guests, comic book creators, cosplayers (fans who dress up as characters), interactive exhibits, and "geek"-inspired vendors.
With a record number of fans attending last year's event (180,000 announced), you can only imagine that it would take something super-special to stand out even more. Thanks to their fantastically wrapped Step Van food truck, one vendor did just that.
Fandom powered by Wikia is a popular, forum-based online presence that sets up each year in several different ways. Last year, they partnered with BBC America to create an interactive escape room for Dirk Gently's Holistic Detective Agency and teamed with Twitch to host sci-fi/fantasy/animation discussion panels.
And for the third year in a row, they set up their Fandom Fantasy Food Truck, which brings popular foods from fictional series to life and distributes them for free to New York Comic Con attendees. This truck is wrapped, allowing them to showcase their brand in a "big way" to a "massive audience." Previous graphics on wraps featured fan-favorite properties such as Fallout, Steven Universe, Gravity Falls, Warframe, and Geek & Sundry.
Past food trucks proved such a hit that Fandom/Wikia held an Internet poll months prior to the show so fans could vote on what they wanted served at the food truck. This "Fantasy Food Bracket Tournament" welcomed over 250,000 votes. The top four vote-getting foods would be served at the show.
The foods dished out and featured on this Fantasy Food Truck wrap included:
Together Breakfast (Steven Universe) – A mini stack of waffles, topped with a piece of popcorn and a strawberry gummy;
Pitt Cola (Gravity Falls) – A peach cola with a chocolat pitt inside;
Pawpsicle (Disney's Zootopia) – A cherry popsicle in the shape of a paw; and
Yoyle Cake (Battle for Dream Island) – A special bright purple, green, and yellow cake filled with buttercream frosting.
The creators of the animated series Battle for Dream Island and Gravity Falls, along with other celebrities, stopped by the food truck to sample these desserts and savor the wrap.
The company responsible for making this colorful cartoon wrap a reality was Printed Pixel, Inc., of South Amboy, New Jersey.
Overseen by Director of Operations James Kennedy, Printed Pixel, Inc., is a graphic print and installation company that started up in 2012 and boasts over eighteen years of experience in the industry. The company specializes in corporate transport fleet installations, promotional vehicle rentals, custom RVs, tradeshow exhibits, and point-of-purchase items. They have accredited installation professionals on-site as well as an entire network of installation professionals across the country.
"We work with clients ranging from local small businesses such as landscapers and contractors to global brands such as American Express, Converse, UBER, Benefit Cosmetics, and the Four Seasons," says Art Director George Kern.
Fandom/Wikia sent an EPS file to Kern with the images of the characters they wanted to include in the wrap.
These types of vehicles are always a little tricky because of their unique shapes and sizes, so the biggest challenge for Kern was perfecting the template before laying out the design.
"Every one of these vehicles has so many customizable options and variations that there isn't a one-template-works-for-all solution," he remarks, noting that their templates are "meticulously created" right down to the rivet lines and any extruded bolts that may stick out and make small copy illegible.
"We made a detailed custom template built 1:10-scale in Adobe Illustrator® to ensure everything ended up in its exact location," says Kern, "and then laid it out in Photoshop®. The color-matching for some of these graphics kept us on our toes."
Printed Pixel printed out the colorful cartoon wrap onto Avery Dennison® MPI 1105 and DOL 1360Z overlaminate using their HP Latex printer with OEM ink managed by Onyx RIP. They also used a Seal Laminator.
"While this was going to be a very temporary graphic, Avery Dennison MPI 1105 and DOL 1360Z speed up the installation and removal process too much for us to even think about using something different," states Kern.
With great wrapping power comes great responsibility. Printed Pixel wrapped the Step Van food truck in their 5,000-square-foot facility—a controlled environment big enough to accommodate oversized vehicles for wrap installations.
Installers began by stripping the already existing vehicle graphics for a previous promotion from the vehicle. They then removed any hardware or obstructions from the outside of the food truck.
The company also supplied Wikia/Fandom with a bunch of removable decals that they printed up to apply over the food truck menu to denote an item was sold out for the day.
Wikia/Fandom sets up the food truck next to a big stage on the show floor. Since they're handing out free items, this obviously means a lot of people are going to be on the lookout for it. "Who doesn't love free food?" says Kern. "This wrap is designed to disrupt an event that is completely saturated with ads, vendor booths, celebrities, etc."
Since their facility is strategically located just forty minutes outside of New York City and is easily accessible to major highways within Central New Jersey, Printed Pixel drove the wrapped Fandom Fantasy Food Truck to its destination.
"During our drive out there, people were beeping their horns and giving a big thumbs up to it," beams Kern.
By Jeff Wooten
Photos: Printed Pixel, Inc.