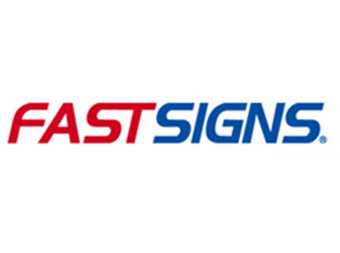 FASTSIGNS®, the worldwide franchisor for the more than 540 FASTSIGNS sign, graphic, and visual communications centers in eight countries that has consistently received high accolades in the United States for achieving high levels of franchisee satisfaction, has duplicated that success in Canada.
The franchisor was recently recognized as the Gold winner of the 2013 Canadian Franchise Association (CFA) Award of Excellence in Franchising in the Traditional – Mature Category. FASTSIGNS was also honored as a recipient of the Franchisees' Choice designation for the second time. Both awards were presented on April 8, 2013 during a Gala Awards Presentation at the twenty-second annual CFA National Convention in Montréal, Québec.
Considered the pinnacle of franchise achievement in Canada, CFA Awards of Excellence in Franchising are given annually to franchise systems that have demonstrated the strongest, most mutually-rewarding relationships with their franchisees, based on the results of a comprehensive survey of franchisors and their franchisees administered by third-party research firm InfoFeedback. Participating franchise systems were assessed on their performance in key areas, including franchisee relations, leadership, business planning, marketing, training and support, ongoing operations and communications.
"Franchisees should be at the center of every franchise system, and there is nothing more telling about the health of a system than the level of satisfaction among its franchisees," said Catherine Monson, CEO of FASTSIGNS. "We put high priority on providing our franchisees with the leadership, training, support and open communication they need and want from us. We are beyond thrilled to know that our efforts are making a positive impact on their businesses and that they are highly satisfied with us and the support we provide."
The Franchisees' Choice designees are CFA member franchise systems who voluntarily took part in an independently-administered survey. Franchisees were asked to assess their franchisor in key areas of the franchise business model, including the franchisee selection process, franchisee Information package, leadership, business planning and marketing, training and support, ongoing operations, and the relationship between the franchisor and franchisee.
"I have been with FASTSIGNS since 2005, and I can say that I have been continually impressed with my franchisor," said Bob Ramsden, owner of FASTSIGNS in Mississauga, Ontario, who noted that he has a clear channel to communicate with the corporate office. "After many years in the corporate world, it's great to have open, two-way communication and an honest CEO who is transparent with franchisees. We regularly communicate about the business performance, financial expectations and brand positioning, among other things, which is refreshing to have in such a large franchise system."
FASTSIGNS was also recently recognized as a 2013 World-Class Franchise by the Franchise Research Institute, ranked 12th overall on the Franchise Business Review's "FBR50," and awarded a Franchise Update Media Group 2012 STAR Award; all for outstanding franchisee satisfaction.
Of the many strategies employed by FASTSIGNS to ensure that its franchisees are satisfied and meeting their goals, the company puts emphasis on providing franchisees with ongoing training on the latest technologies, industry changes and best practices. The franchisor also hosts regional town hall meetings where franchisees have the opportunity to learn about company initiatives, ask questions and share ideas. The company also has a franchisee mentor program to guide and lend support in every business aspect to newer franchisees. In addition, FASTSIGNS assists with marketing, site selection and construction management services for new centers.
With twenty-three centers currently in operation throughout Canada, the franchise expects to increase its presence with an additional five to seven locations open in the next twelve months. Key growth markets include British Columbia, Alberta, Saskatoon, Manitoba, Ontario, Quebec, and Newfoundland.
For more information about FASTSIGNS call Mark Jameson [email protected] at 214/346-5679 or visit www.fastsigns.com.
For more information about the CFA Award of Excellence in Franchising or Franchisees' Choice designation and a list of winners, visit www.awardsprogram.ca.