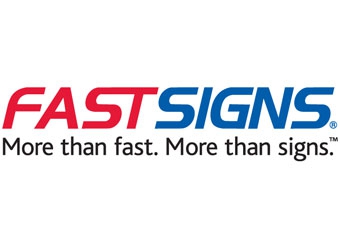 FASTSIGNS® International, Inc., the leading sign, graphic and visual communications franchisor of more than 650 locations worldwide, and Epson America, a global leader in printing technology, announced FASTSIGNS® is adopting Epson®-3M™ UltraChrome® GS3 Inks. Designed for use in Epson's advanced SureColor® S-Series roll-to-roll solvent printers – including the SC-S60600 which many FASTSIGNS franchised locations use – the premium inks provide a 3M MCS™ Warranty for finished graphics created using supported 3M films, clears, overlaminates, and application tapes.
"The new S-Series printers have proven to be the fastest, and one of the most reliable printers we have ever recommended to our centers," said Brian Boehm, Director of Tech and Supply Chain at FASTSIGNS International, Inc. "With the addition of the Epson-3M UltraChrome GS3 ink, customers now have the best graphics warranty in the business."
Epson-3M UltraChrome GS3 inks enable FASTSIGNS locations to provide their customers with quality printed graphics that are guaranteed under the 3M MCS warranty program. Widely recognized as the industry's most comprehensive finished graphics warranty, the 3M MCS warranty covers fading, cracking, peeling, and other aspects of outdoor graphic performance for franchisees using the SC-S40600, SC-S60600 and SC-S80600 printers.
"The SureColor S-Series printers used in FASTSIGNS locations across the country already provide outstanding quality, productivity and reliability," said Matt McCausland, product manager, Professional Imaging, Epson America, Inc. "The Epson-3M inks take these printers to the next level, providing FASTSIGNS local owners with the security of knowing finished graphics made with 3M Graphics products and components are protected for virtually any application."
3M offers the 3M Performance Guarantee with Epson inks featured in legacy wide-format Epson printers, coupled with complimentary rolls of 3M materials, including 54-inch x 10-yard rolls of 3M Controltac™ Graphic Film with Comply™ v3 Adhesive IJ180Cv3 and 3M Scotchcal™ Gloss Overlaminate 8518.
The Epson SureColor S-Series printers redefine image quality expectations in the signage market, featuring a PrecisionCore® TFP® print head (in dual array on the SC-S60600 and SC-S80600) and enhanced precision media feeding system to produce high-quality, sellable output at impressive production speeds. Combined with the 3M MCS Warranty-backed Epson-3M UltraChrome GS3 solvent inks, the SureColor S-Series printers offer outstanding print quality, durability, and media compatibility, plus improved drying times, to help FASTSIGNS get the job done and drive productivity.