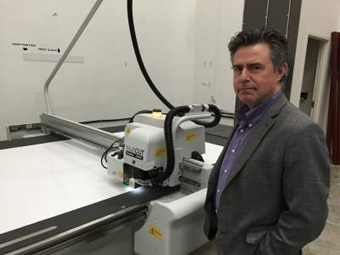 FASTSIGNS of Vancouver has recently invested in a new Esko Kongsberg V finishing table, bringing in-house many of the cutting and routing tasks it once had to subcontract to complete. In doing so, beyond productivity, quality and cost efficiencies, they have been able to attract more business.
FASTSIGNS® of Vancouver (FASTSIGNS.com/653) is an independently owned and operated sign, graphics and visual communications company–one of FASTSIGNS' more than 530 franchises throughout the world. They provide comprehensive visual marketing solutions to customers of all sizes–across all industries–to help them meet their business objectives and increase their business visibility. Paul LeBlanc, owner of FASTSIGNS of Vancouver, invested in his FASTSIGNS franchise, the second in Canada, in January 1996. At the time, the only other franchise in Canada was across the country in Newfoundland. Though living in Nova Scotia, LeBlanc was willing to move to a large city to start his business. While it was a tough start in an unknown city, he overcame the challenges and the business grew substantially in the early 2000s, serving retailers, the real estate industry, art galleries, and non-profits. The business expanded from their original 1,800 square foot location to their current 5,400 square foot facility in 2008. Their ten employees operate two roll printers, a flatbed printer, and a thermal transfer printer.
Finding a need to bring cutting and finishing in-house
However, producing signs isn't all about printing. "We originally had a saw on our wall and a hand saw we used for cutting on production tables," recalls LeBlanc. "A lot of the materials took a good amount of muscle to cut. On some occasions when clients needed a good number of retail signs and shapes, we sent them out to a subcontractor to be cut."
LeBlanc realized that the amount of subcontracting was increasing. "One of our best customers was ordering more and more items that needed cut substrates, and it required us to seek help," says LeBlanc. "It was challenging for us. The subcontractor's cost made it difficult for us to make money. Also, it created time pressures for us. We would print the project, ship it across town, wait for the project to be cut, and then ship it back. It took too much time."
The other influencing factor came from LeBlanc's involvement with FASTSIGNS. "We are part of the FASTSIGNS network and have a number of business friends whom I speak with regularly and meet at our annual convention," adds LeBlanc. "I had heard that many of these franchisees were reaping real production efficiencies with cutting tables. While we had plenty of resources to do the work manually, I asked a room full of people of similar FASTSIGNS centers if there was a viable business case to invest in a table. The answer was a unanimous 'yes!'"
LeBlanc needed a table that could read registration marks from a digital printer so that it could cut squares or contours—whatever shape—on the printed piece. He also creates a lot of dimensional letters, so a router was important.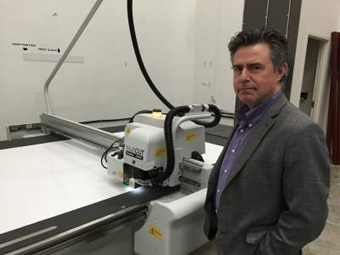 Deciding on the Kongsberg V, a cost-effective finishing table
"There are a few different table manufacturers, and this was an important investment—one that we believe we will be using for a decade. I needed a machine where the company had a good track record among FASTSIGNS franchisees and within the industry." remarks LeBlanc. "When I ask people what they are doing, I listen. I spoke with people who were consistently happy with the Kongsberg table. I also knew that FASTSIGNS headquarters supported them."
They decided to invest in a Kongsberg V table and installed it in October 2014. "Price was a significant factor. If I had to make a decision before the Kongsberg V, I would have waited another year," remembers LeBlanc. "The price let me move sooner. I assessed the sacrifices that I would have to make with power and speed, and compared them to larger Kongsberg tables. I visited FASTSIGNS in Burlington, Canada. They were running their larger table at 1/2 and 1/4 speeds, which was certainly sufficient for them. It also was able to do routing—an important feature."
Esko had a local rep, a very comforting thought for LeBlanc. "I understand that Esko has reps throughout North America," comments LeBlanc. "It's nice that I don't have to work with someone who is far away. I feel like I have a local relationship with Esko."
The Kongsberg V table has already come in handy. "The timeline with our largest retail client's most recent job was extremely tight and would have been difficult if done outside. Now that they have a significant in-house capability, the large project, created in Coroplast, was easy to complete. We have completed a couple runs of signs for a security company where we produced 100-150 square Coroplast signs. This would have been a big problem for us before. We ran them through the cutter and it saved a lot of time," raves LeBlanc. " We also needed to create a 3D letter sign for another customer. I really don't like hard and fast deadlines for a sign that will be used for years, but the client was making it for a specific event. We were able to meet the deadline while creating a very high-quality sign—something we would not have been able without the Kongsberg V table. It got us the order. In the past we would have turned it down."
The Kongsberg V table has met every demanding job, cutting plexi and acrylic very well. LeBlanc particularly likes the clean edges on OVC plastic. Recently, as a test, they created a 3D piece where the router cut out a custom 1/4″ shape within a larger shape, as if a sand blaster did it.
The Kongsberg table is also making the sales force more productive. "Before, when my sales people tried to sell certain projects, they were unable to quote them easily. We had to send a job request to the subcontractor," recounts LeBlanc. "Now, with the Kongsberg table and our in-house capability, they can quote projects easily, like standees, or dimensional letter jobs. Our salespeople are more confident and are converting more orders."
"In the history of our business, success has come through technology," concludes LeBlanc. "In the early years, there was thermal transfer printing, then inkjet printing. Now I see the Kongsberg table, and flatbed cutting, as a way of staying ahead of the competition by providing services unavailable from other businesses."