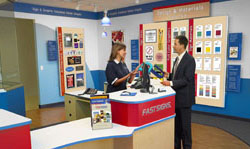 FASTSIGNS International, Inc., the worldwide franchisor of FASTSIGNS
®
sign and graphics centers, has been named one of the top 500 franchises in the United States, ranking #80 in
Entrepreneur Magazine's
Franchise 500® and ranked #1 in the sign and graphic category.
The rankings for all 500 companies are determined using an exclusive formula that takes into account objective and quantifiable factors. The most important factors include financial strength and stability, growth rate, and size of the system. The franchises that grew the most were the ones who serve a budget-minded consumer, didn't cost as much to set up, or both.
"The Entrepreneur rankings are gratifying and it is an honor to be recognized by such a prestigious publication," said Catherine Monson, CEO of FASTSIGNS. "The long-standing recognition speaks volumes about our business and the services that we provide our franchise partners and to sign and graphic decisions makers and buyers. To be ranked #1 in the sign and graphic industry is a great accomplishment."
As the worldwide franchisor and leader in the visual communications industry, FASTSIGNS has more than 530 FASTSIGNS sign and graphic centers located in the U.S., Canada, the U.K., Brazil, Mexico, and Australia. The company continues to grow the brand nationwide and is targeting various markets across the country as part of a growth strategy, expanding through a combination of new center development and conversions of existing independent sign shops. The conversion initiative allows independent sign shop owners to partner with FASTSIGNS in reaching their full potential and long-term goals.
Adding to the success, FASTSIGNS recently secured $4 million in financing for franchisees opening new centers. In conjunction with offering the dominant brand name in the visual communications industry, sophisticated e-commerce capabilities and the latest technology, along with access to extensive marketing resources and benefits, FASTSIGNS successfully opened more than 20 centers in 2010 and anticipates opening an additional 35 centers in 2011. Monson added that FASTSIGNS has more than 300 markets in the United States that are currently ready and approved for development.
"The sign and graphics industry is well-positioned to withstand changes, even within the challenging economic landscape that we are currently in," added Monson. "With these challenges come unique opportunities that individuals who wish to reach their full potential can take advantage of with FASTSIGNS."
FASTSIGNS was ranked in the Franchise 500®: # 80 (2011) #85 (2010); #108 (2009); #138 (2008); #100 (2007); and #106 (2006). 2009 marked the fourth consecutive year that FASTSIGNS International, Inc., has earned Franchise Business Review's "Best-in-Category Award" for the business services industry, as well as placed in the top five franchises on The Franchise 50™ list of the top 50 franchise companies with 200 or more units. FASTSIGNS was also awarded the #12 spot on the National Minority Franchising Initiative's (NMFI) annual list of the Top 25 Franchises for Hispanics.
For franchise information, contact Mark Jameson or Brian Wieters at [email protected] and [email protected]. Mark and Brian can also be contacted by calling 800/827-7446.