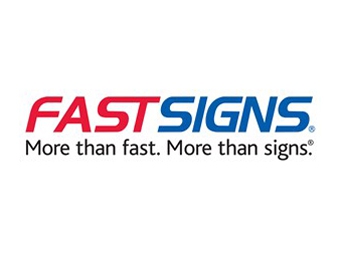 FASTSIGNS International, Inc., the leading sign, graphics and visual communications franchisor of more than 650 locations worldwide, announces that it is seeking franchisees at the upcoming ISA International Sign Expo held in Las Vegas, Nevada from April 19 to 22. The annual show is one of the largest gatherings of sign and graphics professionals, and FASTSIGNS® is targeting co-brand and conversion prospects, where independent print and sign shop owners can expand their existing business or convert their business to FASTSIGNS.
"With thousands of industry professionals in attendance each year, the ISA Sign Expo is an invaluable resource for connecting with business owners who are a perfect fit for the FASTSIGNS franchise network," said Mark Jameson, EVP of Franchise Support and Development, FASTSIGNS International, Inc. "In the past several years, FASTSIGNS has continued to experienced tremendous growth and established itself as an industry leader by consistently investing in our product, processes and people and the brand.
"We look forward to meeting with experienced and qualified candidates looking forward to convert their existing sign shop or Co-Brand their print or other related business, and encourage them to visit us at the expo and learn more about opportunity that comes with joining a FASTIGNS with a proven record of success. We are also seeking Master Franchisee's world-wide."
FASTSIGNS is exhibiting at Booth #1159 on the tradeshow floor at the Mandalay Bay Convention Center in Las Vegas. Local entrepreneurs and business owners are invited to meet with the brand's franchise development team to learn more about growth opportunities throughout the country.
"As the owner of a conversion location, I took thirty years of independent sign shop ownership and combined it with the largest sign franchise in the world, and that's the beginning of our FASTSIGNS success story," said Jeff Chudoff, FASTSIGNS franchisee. "Prior to joining the company, I was never able to achieve the sales goals I wanted. However, once I was introduced to FASTSIGNS at a conference, I saw that the processes, procedures and opportunity to network with other owners would allow me to obtain the larger goals I knew we had the possibility and talent to achieve."
FASTSIGNS International, Inc. closed out 2016 with record-breaking growth and was recently ranked number-one in the Business Services/Signs category and ninety-fifth overall in Entrepreneur magazine's Franchise 500®, the world's first, best and most comprehensive franchise ranking. Acknowledged by entrepreneurs and franchisors as a top competitive tool of measurement, the Franchise 500® recognizes FASTSIGNS for its exceptional performance in areas including financial strength and stability, growth rate and brand power.
In addition to more than 400 U.S. and Canadian markets targeted for development, FASTSIGNS has 65+ international locations open for continued expansion. As part of the brand's development strategy, FASTSIGNS is targeting co-brand and conversion opportunities whereby print shop owners can expand their services by adding FASTSIGNS to their existing business or convert their business into a thriving FASTSIGNS center.
For information about the FASTSIGNS franchise opportunity, contact Mark Jameson ([email protected] or 214/346-5679). You can also visit FASTSIGNS at booth #1159.