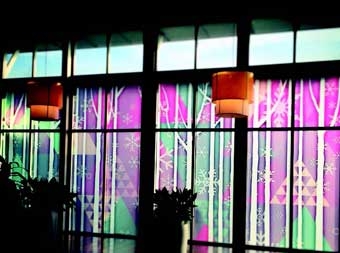 Each year, World Outreach Church in Murfreesboro, Tennessee, spreads holiday cheer to shoppers at its local Stones River Mall by sponsoring its annual giftwrap station. Set up at the food court entrance, the church transformed the high-traffic area with a festive snowflake window mural displayed through the entire holiday season.
Cory Richmond, member of the church and owner designed, printed, and installed the short-term promotional graphics. Momentum Media is a multi-media design and print company specializing in graphic design, facility design, offset printing and grand format printing—aspiring to entice shoppers, the window mural was installed in the midst of the hustle and bustle to create awareness of the church's free service for the ultimate shopping and gift wrapping experience.
As a one-man shop, Momentum Media needed a window media that offered a quick and easy installation. The window mural, consisting of sixteen large and sixteen small window panels each of slightly various sizes, had the potential to pose a challenge without the right solution. Momentum Media selected its go-to product MACtac's B•free® Frosted window vinyl, which resulted in a window mural with special effects seen from both inside and outside the mall.
"MACtac's B•free is my favorite media to use because it's by far one of the easiest materials to work with," Richmond said. "I was able to install this seasonal window mural by myself in six hours. The result of the frosted finish offered a stain glass effect where color and text could be seen on both sides of the window."
B•free Frosted is a 3.1-mil matte translucent vinyl ideal for the application of short- to medium-term window displays, signboards, backlit applications and more. Featuring MACtac's proprietary air-egress structure, it offers fast, easy, no-mess dry application requiring the use of only tape and a squeegee. B•free has a smooth print surface and can be printed by solvent, eco-solvent and UV wide-format printers in reverse to be read through glass. PERMACOLOR® RAYZor™ overlaminate can be used to enhance color and protect against fading.