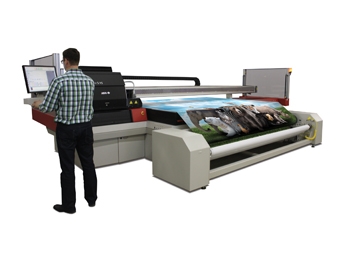 The first home in the United States for the Jeti Titan HS, the newest wide-format printing system from Agfa Graphics, is Phase 3 Marketing & Communications. The Jeti Titan HS UV inkjet printing system sets a new standard for productivity and print quality at a best-in-industry price point. The Titan HS is being demonstrated at the Agfa Graphics Sign Expo booth (#1736) April 24-26 at the Orange County Convention Center in Orlando, Florida.
A leading provider of end-to-end marketing services, Phase 3 Marketing & Communications http://www.phase3mc.com was the first in the United States to purchase the Jeti 3020 Titan thirty-six-head printing system and has been using it successfully for years. The Jeti 3020 Titan proved to be a reliable workhorse for Phase 3 Marketing & Communications, outperforming expectations in quality, ink adhesion and ink consumption. When it was time to expand business capabilities again, Phase 3 Marketing & Communications was eager to lead the market and put the high-production, high-quality Jeti Titan HS through its paces.
"Compared to our other flatbed equipment, this machine uses far less ink to obtain the same, if not better, quality. After viewing the new Jeti Titan HS, we felt that being the first to purchase this machine in the U.S. was not a leap of faith, but rather a sound move," said Gail Turner, Senior Vice President, Operations & Purchasing, Phase 3 Marketing & Communications. "The Jeti Titan HS will bring faster speeds, better quality and more output. It will be a great complement to our existing machinery for digital P-O-P printing."
The new 126-inch Jeti Titan S (speed) and HS (high-speed) flatbed UV-inkjet printers combine exceptional print quality and high productivity at a best-in-industry price point. The engines incorporate the latest generation 1,280-nozzle Ricoh Gen 5 print heads. The Jeti Titan S is equipped with one row of print heads and is field-upgradeable to two rows to increase productivity. The Jeti Titan HS, which is on display at the Agfa Graphics booth (#1736), comes with two rows of print heads. The Jeti Titan S and HS are ideal for high-definition work like POP viewed at close range or for intricate output desired by art, fashion, and cosmetics markets.
For Phase 3 Marketing & Communications, choosing Agfa Graphics was more than simply choosing a wide-format printing device. Phase 3 looked beyond the engine and saw strengths throughout the company.
"Agfa Graphics does an outstanding job with their service and support. We feel that they set the bar for service performance. This was also a factor when we were looking for our next flatbed printing system," Turner added.
The "flat-to-roll" option on the Jeti Titan S and HS give users the ability to print flexible media with the same high quality and resolution as rigid materials. Reflecting market demands, the default set-up for both models is six colors plus white (CMYKLcLmWW). White printing supports different modes including overprint, under-print, spot, under-spot, fill and over-spot for rigids and pre-white for roll media.
"We are pleased to extend our partnership with Phase 3 Marketing & Communications. Phase 3 continues to see the potential and make the most of wide-format inkjet printing, delivering exceptional quality products and services for their client base," said Deborah Hutcheson, Director of Marketing, Agfa Graphics, North America.
For more information, visit www.agfapitman.com.