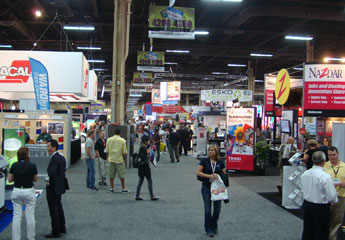 The ISA International Sign Expo will use the Florida sunshine to shine some light on the newest technologies and services in the sign industry. The Expo will be held from March 21-24 at the Orange County Convention Center in Orlando, Florida.
During the jam-packed four-day show, attendees can take advantage of pre-expo education workshops, see products and demos on the show floor, learn more about a particular section of the industry in an education session, and catch up with other industry members at networking events.
Those who attended the Expo last year may remember the size and depth of the show. In fact, the 2011 ISA International Sign Expo earned the fifth spot on Expo Magazine's list of the Top 25 Fast-Growth Shows in 2011.
And in our own countdown, we're going to show you the Top Five Reasons Why the 2012 ISA Show Will Be Bigger & Better—and why you just have to be there.
5. A Package Deal
ISA has listened to its members' concerns, and is now offering new registration packages that allow more employees from a particular company to enjoy the show on a budget. The new packages are highlighted by an option that allows all of a company's employees to attend an unlimited number of education sessions for one flat fee. The option encourages companies to sit in on each of the sessions in a particular track so that they walk away with a more well rounded view of a subject area.
"It's about giving back and trying to raise the benchmark for the industry," says Brandon Hensley, vice president of Trade Show & Marketing at ISA.
Pricing and details for the new packages are as follows:
Company Package
Includes admission for all of your company's employees to the exhibit hall and to an unlimited number of education sessions.
ISA Member: $999; Nonmember: $1299
Genius Package
Includes admission for one to the exhibit hall, and to an unlimited number of education sessions.
ISA Member: $359; Nonmember: $459
WorkSmart Package
Includes admission for one to the exhibit hall, and to your choice of 60 education sessions taking place Thursday, March 22 – Saturday, March 24.
ISA Member: $259; Nonmember: $359
JumpStart Package
Includes admission for one to the exhibit hall, and to your choice of 18 intensive workshops taking place on Wednesday, March 21.
ISA Member: $159; Nonmember: $259
Admission to the tradeshow only and to education sessions á la carte, are still being offered, as well.
4. Innovation Station
New to this year's show is the Innovation Station. Looking to learn more about a particular product or process? Well these exhibitor-sponsored education sessions in Booth #2992 will offer you the chance to see an up-close demo on how a particular product/process works. Attendees will have the chance to ask presenters questions to learn more, and there is no registration required to attend the sessions. For a list of the scheduled presentations, click here. (http://signexpo.org/education-networking/innovation-station)
3. Getting Social
Last year, the Expo featured a Twitter wall, and a number of ways to interact via social media. This year, they are stepping things up with the ISA Basketball and Social Media Lounge. The lounge area will feature a cyber café, a bar, and a number of large screen TVs showing all of this month's basketball action on ESPN.
Not sold on the benefits of social media? Think again. "It's a good way to connect," says Hensley. "It's a way to take the experience that you're having, real time, and move it out to people who aren't there." And that includes fellow employees back at the shop!
In addition to the lounge, ISA is also offering a mobile app called Chirpy, which allows attendees to download a floorplan, exhibitor list, and education sessions list via a QR Code for handy navigation while roaming the show.
The Green & New Product Showcases are also going mobile this year. Stickers outside of booths and notes in the program book will direct attendees to text in their vote for the Best New Product and the Best Green Product. The winners will be announced at 12 pm on Saturday and will be displayed on a flat screen in ISA's membership booth.
2. Meet and Greets
One of the benefits of the ISA Expo is the chance to see industry associates, friends, and clients all in one place. ISA offers a number of chances to catch up off the show floor with its after-hour events.
On Thursday, March 22, participate in Industry Night and enjoy free access to Universal CityWalk®'s restaurants, clubs, and shops with your ISA badge.
Some other favorites are the Custom and National Sign Company Meeting & Networking Event, which takes place on Friday, March 23 at 4:30 pm; the International Division Meeting on Friday at 4 pm; and the Architectural (Saturday, March 24 at 11 am) and Digital Division (Saturday, March 24 at 10 am) Meetings.
"The expo is by far the largest sign-specific show in the world, and what we try to do is segment it out so that people can say, I can go be a part of this big pool of 19,000 people, but then if I'm a custom national company, I can go over and do my reception," says Hensley. "We try to break it out so people feel like they have a home to go to."
1. Happy Hour Anyone?
No matter how big and exciting the show, every attendee and exhibitor has experience that drag during the last hour of the show. People slowly but surely trickle out of the hall, and things die down for the day.
Well that dull last hour of the day is over for the ISA Expo.
On Thursday and Friday of the show from 4-5 pm, attendees and exhibitors will be able to enjoy a free beer and wine happy hour right on the show floor! But that's not all—stilt walkers will be going through the aisles, and live music will be jamming in the lobby and on the concourse.
Plus, those who stick around for the last hour of the show will have the opportunity to earn some cash as part of ISA's Dash for Cash contest. At 4:15 and 4:45 pm, be the first to ISA's Booth #1559 with your ID to win $1000! If no one wins, the prize rolls over and continues to go up. Over the two days, $6000 will be given away!
Want to participate in the Expo, but haven't registered yet? No problem—sign up for the show right here!
And while you're there, be sure to stop by and visit Sign Builder Illustrated in Booth #2005!