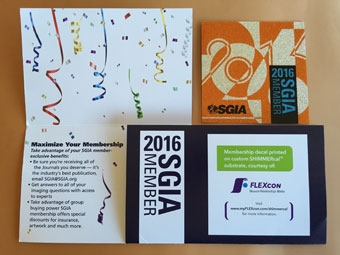 FLEXcon, an innovator in adhesive coating and laminating, announced that it worked with Modernistic to develop a custom construction for the 2016 Membership Decal for the Specialty Graphic Imaging Association, the foremost resource of information and education within the specialty imaging industry. Using FLEXcon's self-adhesive SHIMMERcal glitter film, Modernistic was able to create an eye-catching two-way window decal for SGIA.
Modernistic, a leading national supplier of décor, displays, graphics and industrial OEM products, was working within a short timeframe to create a unique decal for SGIA and turned to FLEXcon for its ability to create highly customizable pressure-sensitive solutions. FLEXcon's SHIMMERcal product was the perfect fit. SHIMMERcal's glitter appearance provides pop, sparkle and pizzazz for interior applications such as novelty stickers and decals, promotional graphics, point-of-purchase displays and more.
The custom solution created to meet the needs of both Modernistic and SGIA was a small-format, two-way window decal that utilized a 22 mil custom lamination with an opaque barrier film that allowed messaging to be seen on both sides. The decal was printed by Modernistic via UV screen utilizing opaque and translucent inks. SGIA also gave FLEXcon an opportunity to provide artwork for the carrier sheet that the decal would be affixed to, complete with an offer for members to collaborate with FLEXcon on a custom construction, and receive information on the SHIMMERcal product line.
SGIA distributed more than 5,000 decals to its members, who can adhere it to a door or window in their facilities to promote their association with the industry group.
"FLEXcon is known for custom capabilities and providing solutions that solve problems, or in this case, help take a membership decal to another level of functionality and creativity. Through our relationships and collaboration, we were able to help Modernistic create a decal for SGIA that was unique, and one that SGIA members can proudly display to promote their support of the graphics community," said Jodi Sawyer, Market Development Specialist, FLEXcon. "We were honored to participate in providing a differentiated solution. This was an important initiative to FLEXcon, as a longtime supplier to the graphics community and a 45-year member of SGIA."
"As we work to promote the graphics industry worldwide, we are pleased to partner with companies like Modernistic and FLEXcon that provide industry-leading solutions," said Maggie Brescia, VP of Marketing Communications at SGIA. "We couldn't be happier with the end result – the decal really pops and will help our members draw attention to the work SGIA is doing in the specialty imaging community."
"Working under strict time constraints, we knew that we could count on FLEXcon's custom solution offerings to accurately develop the product that we were envisioning," said DeAnn Strenke, Marketing Manager at Modernistic. "Through teamwork and collaboration among all parties involved, FLEXcon has gained our trust by delivering exceptional results time and again, often under challenging circumstances."