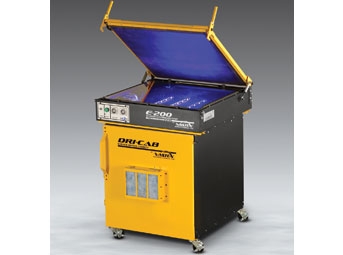 An all-new Dri-Cab Forced Air Screen Drying Cabinet from Vastex International dries coated screens five times faster than passively-ventilated drying cabinets, it was announced by Mark Vasilantone, president.
"The VDC-2331 Dri-Cab is the latest addition to our line of high-quality, affordable, space-saving equipment specially engineered for smaller shops and entry-level screen printers," says Vasilantone. "With the VDC-2331 Dri-Cab, you can coat and expose your screens the same day, instead of waiting overnight for air drying."
The compact unit can hold up to ten 23-by-31-inch screens, and features a positive-pressure ventilation system with air filter to prevent dust contamination—a common cause of pinholes in air-dried screens. The pressurized cabin dries most coated screens in less than one hour.
To ensure total darkness, the unit is constructed with large overlapping seams, and is equipped with a latching, rubber-sealed door and light-tight bottom exhaust port. Screens sit horizontally on removable shelves that are angled to prevent screen mesh fabric from touching the shelf surface.
With its forced air design, simple On/Off switch, and easy-access filter housing, the VDC-2331 Dri-Cab is economical to operate and easy to clean and maintain. Equipped with locking casters, it can also serve as a mobile stand for a Vastex E-200 (shown) or E-1000 LED exposing unit, D-100 Conveyor Dryer, V1000 tabletop press or other tabletop equipment, saving floor space.
The company also manufactures screen printing presses, athletic numbering systems, screen registration systems, infrared conveyor dryers, flash cure units, screen exposing units, washout booths and complete screen printing shop systems, and offers a comprehensive range of training classes for entry level, intermediate and advanced screen printers.