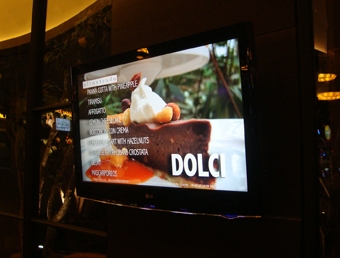 The whole narrative about Digital Signage is maturing rapidly. The top 10 trends are all pointing to its success and through this, the way that the medium will be called to deliver more value as it garners more investment.
Digital signage is a dynamic industry. New approaches and influences on it's use and supply are emerging quickly. To outline key changes and the dynamics that are shaping this high growth area of visual media, a free Webinar, titled "Digital Signage: Status in 2014 & The Road Ahead," will be presented on Wednesday Feb. 19th from 2-3 PM ET.
A "snapshot" of the status of the sector will be provided along with the outlook, directions, and inherent tensions in North America's digital signage industry. This will be useful to end users and network operators of digital signage, as well as current and prospective suppliers.
This information-rich webinar briefing will also include new ways of assessing network health and ways in which the health and success of digital signage initiatives and supply capability are being influenced. Supply and end user digital signage management
will benefit greatly from this session by independent industry veteran Lyle Bunn. Useful documents will be provided to registrants.
You will learn:
The status of digital signage supply and use
Areas of greatest investment
Industry elements that are defining future need
How the supply of digital signage is evolving
Ways of defining project viability and sustainable success
Key elements of sector Strengths, Weaknesses, Opportunity, Threat
Structure for digital signage opportunity and project assessment
Developments in the supply landscape
How the use of digital signage is changing
How AV and technology integrators can easily "up their game" for greater success.
Registrants are invited to submit questions in advance to [email protected] and will be provided with a URL of the recorded session.
Presenter: Lyle Bunn (Ph.D. Hon.) is an acknowledged expert on digital signage. Serving as an independent analyst, advisor and educator in North America's Digital Place-based Signage and Enterprise Media sectors, he has assisted hundreds of end user and supply organizations to benefit from place-based signage and helped to train thousands of professionals. Lyle was recently named among the Distinguished Faculty of Digital Signage Expo based on high education delegate scoring, and in 2013 he was named one of the 11 Most Influential People in Digital Signage by Digital Signage Today.com, and as an "Innovator and Influencer" by Sign & Digital Graphics magazine. He has published over 280 articles and whitepapers. Lyle is the Producer/Moderator of this Network Operators' webinar series. He serves on the judging panels of several industry award programs and on industry event advisory boards.
REGISTER NOW for this free webinar.