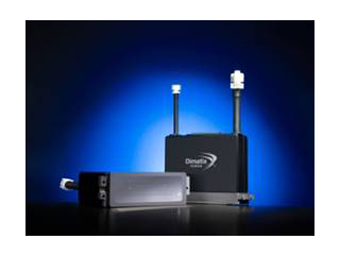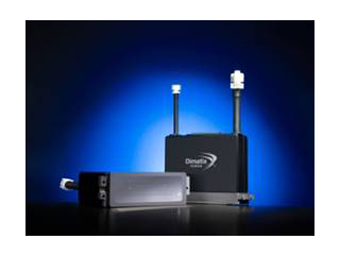 FUJIFILM Dimatix, Inc., has introduced the StarFire SG-1024/M-A printhead, the latest addition to its popular 1024-channel StarFire printhead family and one that delivers superior ink jetting performance and flexibility for textile printing and decorating applications.
The company's new SG-1024/M-A printhead shares the StarFire family features of a robust and repairable construction with a high nozzle density in a compact package suited for demanding scanning and single-pass applications.
Designed for easy integration, the compact and self-contained StarFire SG-1024/M-A is built to withstand the harsh environment of industrial textile production. The printhead uses field-proven materials to deliver consistent and reliable output over a long service life, while an enhanced single durable metal nozzle plate allows the SG-1024 M/A to accommodate aqueous-based and UV-curable and Solvent inks needed for digital textile printing and a variety of other applications. Designed to withstand abrasion, the metal nozzle plate is replaceable.
The StarFire SG-1024/M-A combines superior jetting performance with a high nozzle packing density to achieve single-color operation delivering 400 dots-per-inch resolution with fluids in the 8 to 20 centipoise range. The 1024 independent channels on the StarFire SG-1024/M-A printhead are arranged in eight rows on the nozzle plate. Each channel can be fired simultaneously or individually while maintaining excellent channel-to-channel uniformity and jetting straightness at continuous frequencies up to 35 kHz.
As part of the StarFire family, the new printhead incorporates FUJIFILM Dimatix' innovative RediJet™ jetting technology, which is combined with the company's patented VersaDrop™ multipulsing technology to shorten startup and ongoing maintenance times, and deliver high-accuracy, industrial-speed variable-drop jetting and grayscale printing.
RediJet technology encompasses several innovations including: nozzle plate design, special surface coatings, enhanced on-head electronics, continuous ink recirculation at the nozzle, and waveforms tailored to specific ink requirements.
"These attributes are particularly important for jetting dye and pigment based aqueous ink formulations with heavier colorant concentrations and fast-drying characteristics essential for high-speed single-pass digital textile printing and decorating," explained Russ Brown, Manager of OEM Printheads.
"Together, they unlock the full productive capacity of the StarFire SG-1024/M-A printhead while lowering recurring service costs by minimizing initial start-up and ongoing maintenance times and associated fluids," said Brown.
"VersaDrop technology increases the flexibility of the StarFire SG-1024/-M-A printhead by expanding its fundamental drop size to over 80 picoliters for broader ink coverage and full grayscale printing for job components requiring more tonal expression or higher color saturation, all without penalty to productivity," he concluded.
StarFire printheads are also designed with precise registration points enabling drop-in alignment with system-provided mounting features. This design allows multiple printheads to be accurately arrayed into print bars for wide-width, higher-resolution and multi-color printing devices; it also reduces set-up and alignment costs during replacement or exchange.
For more information, visit www.dimatix.com.