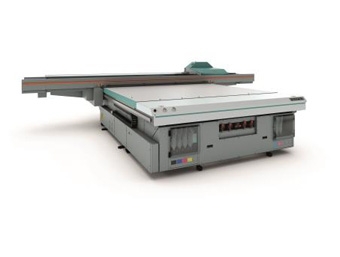 FUJIFILM North America Corporation, Graphic Systems Division is energized for SGIA Expo 2014, and booth # 2454 will include live presentations and interactive demonstrations of all-new technology, including the Inca Onset R40i and the Acuity F (pictured) within the company's "Now You Can" themed booth.
Fujifilm, in collaboration with Inca Digital, will present the North American debut of the Inca Onset R40i with the Hostert full automation system at SGIA. The R40i is a wide format, flatbed UV press, and the latest addition to the Inca Onset series. The R40i prints with a full bed print array (123.6-by-63-inch print area) that eliminates the gloss matte banding normally associated with traditional step and repeat inkjet printing.
Show attendees will have the opportunity to see and attend live demonstrations of the R40i, including the Hostert full automation system. The Hostert system includes an automated feeder and alignment table, along with Inca Digital's proprietary material loader and take off system. This combination allows for continuous printing onto a variety of substrates commonly used in the display, POP and sign markets.
Also making its debut on the show floor is the all-new Acuity F, a high performance dedicated UV flatbed printer for the display and signage market for service providers with a high demand for rigid media. The Acuity F Series maintains all the advantages of the popular and successful Acuity platform, including near-photographic image quality, a maximum media size of 120-by-98.4 inches, productivity up to 1,668ft2/hr, a white ink option, and has been optimized for the efficient and high-speed production of rigid media applications.
Additional highlights in the Fujifilm booth include the Acuity Advance Select. This press is built on all the advantages of the highly successful and popular Acuity Advance platform, with the same ultra-high print quality. At SGIA, the Acuity Advance Select will be running Uvijet KV inks that are exclusively designed for the production of decorative print in deep draw thermoforming applications. The inks have been developed to be printed on the Fujifilm Acuity Advance Select series, opening the door for creative design and customization opportunities for thermoformed products. In conjunction with the Acuity Advance Select and Uvijet KV inks, a CR Clarke 750FLB Vacuum Former will feature live demonstrations of thermoforming throughout the show.
The Uvistar Pro-8W roll-to-roll press, a fourth generation grand format hybrid UV press will be on the show floor as well, now featuring the capability to print with light inks (Lk, Lm, Lc) and white to produce the highest quality POP available on a grand format press. When not needed, a simple button converts the press back to four color mode to produce banner or billboard work. Additionally, a vacuum table (available as 4-by-8 feet and 5-by-10 feet) allows the operator to print thin sheets rigid media up to 0.39-inch (10mm), edge to edge.
The Acuity LED 1600, an impressive roll printer with tables for rigid work offers technology breakthroughs in LED UV curing, ink chemistry and printheads, will be displaying its near-photographic results at impressive speeds.
Wide format inkjet and screen printing workflow solutions will also be featured, including Fujifilm's edition of ColorGATE's Production Server 8 (PS8), along with Pressero, by Aleyant Systems. Pressero is a next-generation, web-to-print e-commerce system offering marketing-oriented websites, online print ordering, file transfer, proofing, order management, approval, order and production status.
Follow Fujifilm Graphic Systems Division on Twitter @FUJIFILMGS, and watch for tweets from the SGIA Expo show floor, #NowYouCan, #SGIAExpo.
To find out how Fujifilm Graphic Systems can help your business meet future challenges, improve quality and reduce costs, please visit: www.fujifilmgraphics.com.
To learn more about Aleyant Systems, please visit: www.aleyant.com.
To learn more about CR Clarke, please visit: www. www.crclarke.co.uk.
To learn more about SGIA Expo, please visit: www.sgia.org/expo.