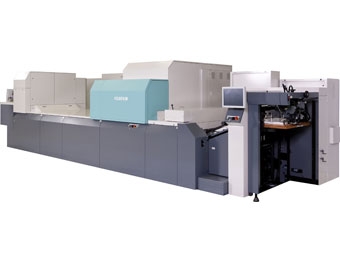 FUJIFILM North America Corporation, Graphic Systems Division recently achieved an impressive milestone with the J Press 720S, a high-quality, digital sheetfed inkjet press.
Idealliance®, a leading industry association for print and digital media best practices has announced an industry first; Fujifilm's J Press 720S is the first inkjet production printing solution to achieve Digital Press System Certification and the first system to be certified to the new GRACoL 2013 specification, the latest industry benchmark for high-quality print.
"Our independent verification lab meticulously evaluated the test results of the J Press 720S, driven by an XMF Workflow digital frontend and ColorPath SYNC Color Management Solutions," said Steve Bonoff, Executive Vice President, Idealliance. "This certification is a milestone for our industry, and we congratulate Fujifilm on the achievement."
Idealliance Digital Press System Certification verifies a system's ability to meet or exceed established industry expectations for excellence. Idealliance certifies the capabilities of commercial production xerographic and inkjet devices to meet GRACoL 2013 specifications and other specific print standards. The Digital Press System program evaluates the entire press system, including the digital front end, print engine, and paper for testing and certification in areas of color, print properties, and print production.
"Fujifilm continues to lead the production inkjet migration," said Don Schroeder, Director of Solutions Development, FUJIFILM North America Corporation, Graphic Systems Division. "With our second iteration of our production inkjet solution, this Idealliance certification reaffirms that our technology, integration and solutions are hitting the mark not only with standards, but with the unyielding Fujifilm philosophy to create the 'best in class' inkjet solutions possible. We are very proud to receive this accreditation, and will continue to support Idealliance initiatives to drive all types of print production to a higher standard."
GRACoL has been the preferred reference for commercial printing since 2006. The GRACoL dataset has been the defacto-standard reference print condition for commercial printing and proofing in North America and other world regions. To keep up with industry trends, the GRACoL Committee has introduced an updated version called "GRACoL 2013."
"Idealliance's industry leading certification highlights Fujifilm's leadership and commitment to production Inkjet," adds Ed Pierce, Product Marketing Manager, FUJIFILM North America Corporation, Graphic Systems Division. "The J Press 720S brings together innovative technologies such as the FUJIFILM Dimatix Samba printhead, VIVIDIA aqueous nano pigment inks as well as Fujifilm's ColorPath SYNC color management, XMF Workflow and proprietary ink jetting technology. Fujifilm is setting the standard with the J Press 720S. The consistency within the sheet and the run of the job on this high precision inkjet solution is truly remarkable."
The J Press 720S was put through rigorous process control testing parameters, and in some measurements exceeded expectations by one hundred-fifty percent.
At drupa 2016, in Dusseldorf, Germany, within Hall 08B, Stand A25, attendees will experience daily demonstrations of Fujifilm's J Press 720S, highlighting excellence in the areas of colorimetric accuracy, uniformity, repeatability, durability, and registration, as recognized by Idealliance.
"Fujifilm has been long-time advocates of Idealliance and spurred this opportunity to advance our program to a higher level, targeting the new GRACoL 2013 specification," concludes Bonoff. "We appreciate their leadership in this effort in moving our association, and industry, forward."