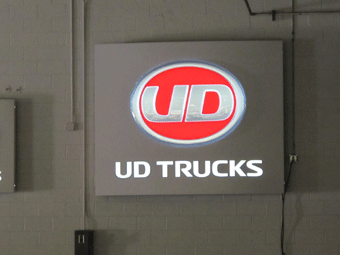 AkzoNobel Specialty Plastics has announced the full commercialization of Soliant Bright Film. After years in development, this patented process technology allows the coated film to be molded and bent without cracking of the metal. Soliant Bright Film's performance is now proven as a replacement to chrome on automotive and commercial vehicle parts and components. "AkzoNobel Specialty Plastics is now targeting Soliant Bright Film for applications into new markets, including commercial signage, decorative displays and marine industries," said Doug Goldstein, marketing manager for film and coatings.
Unique Patented Technology
The unique "Island Technology" of Bright Film incorporates a metalizing process that deposits minute spots of a proprietary, reflective metal matrix onto film. This enables the film to be stretched, molded or bent without cracking or loss of the reflective property. Bright Film may be converted using multiple plastic processes, such as thermoforming and in-mold decoration, in addition to metal forming and lamination processes.
Advanced to Work with More Substrates
In addition to commercializing its proprietary "Island Technology", the film has been advanced to be combined with a wide variety of base film substrates. Initially developed to work with ABS and TPO, which fueled initial automotive applications, the film is now compatible with polycarbonate (PC), clear acrylic (PMMA), and PETG films.
Backlighting Applications in Automotive, Signage & Display Are Accelerating Growth
Automotive interiors, outdoor signage and decorative display products are targeted as major growth markets for Soliant Bright Film. In addition to its highly reflective properties in both interior and exterior environments, the film can be backlit through the metal enabling a high contrast and highly visible lighting effect. For example, sign producers use the film to make backlit outdoor signage with attractive visual and attention grabbing appeal. Similar usages are being developed within automotive, commercial vehicles, marine interiors, and consumer products (including notebook computers and electronic displays).
About AkzoNobel Specialty Plastics
AkzoNobel Specialty Plastics is the only company offering a "one-stop-shop' advantage specializing in multiple decorative and protective films and coating technologies. AkzoNobel Specialty Plastics portfolio includes liquid performance coatings, award-winning Soliant Paintfilm and Bright Film (chrome alternatives), digital image printing systems, metallics, pearls, tricoats, and new "Softfeel" and "3D" films and custom special effects. AkzoNobel Specialty Plastics has patented and pioneered many of today's most exciting advances in coatings technology including reflective printing films, soft-feeling coatings, UV, and special effects and continues advancement with new technologies.