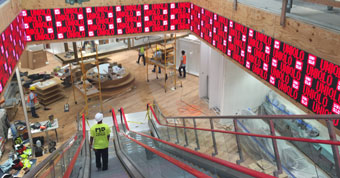 Gable, a Baltimore, Md.-based digital technology and visual solutions company, recently completed the installation of dynamic digital displays including tickers and high-resolution video displays inside Uniqlo's first Florida store in Disney Springs.
Uniqlo, a global retailer with more than 1,400 stores in sixteen markets worldwide, began working with Gable in 2015. Uniqlo selected Gable for visual solutions at the Disney Springs store, which opened July 15, after learning of Gable's visual solutions capabilities and its experience working with some of the largest retail brands in the world including Starbucks, Macy's, and Verizon.
For Uniqlo's newest U.S. location, Gable installed an array of digital tickers. On the store's first floor, Gable installed two, 4mm high-resolution round tickers, each one-foot tall with a circumference of 10-feet, that grab the eyes of shoppers immediately. The largest ticker wraps around the store's main escalator well, measuring 105 feet wide-by-3 feet tall and offering 6mm resolution. Another 6mm ticker display, on the second floor of the store, measures 74 feet wide-by-8 inches tall.
Gable's digital tickers offer more for Uniqlo than traditional monochromatic tickers, providing the retailer with more functionality by allowing the option to display video content that can be operated by the retailer for events, sales, or for other purposes.
Uniqlo also selected Gable to install high-resolution LED video displays at the Disney Springs location. A round 4mm video display, measuring 2.5 feet tall with a circumference of 10 feet, was also installed on the store's first floor. Also on the first floor, two 4.81mm video displays that each measure 6-and-a-half feet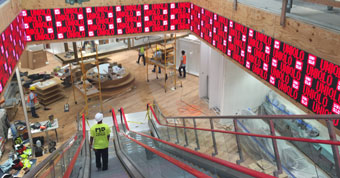 wide-by-13 feet tall snatch the attention of shoppers walking outside. Compared to LCD displays used in other stores, the LED displays at Uniqlo in Disney Springs provide a vivid, vibrant picture perfect to show off Uniqlo's bright red logo.
With the success of Uniqlo's store in Disney Springs, the company has selected Gable to take on three more store U.S. openings in the near future.