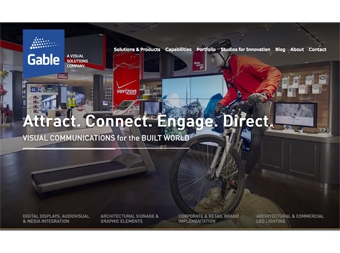 Gable, a world-class provider of signs and architectural elements, digital displays, audiovisual (AV) and media, and lighting solutions, has launched a new Website at gablecompany.com. The new Web site enhances Gable's efforts to communicate its comprehensive capabilities as a leading global visual solutions provider.
Gable's new Web site was created as part of its ongoing rebranding as a leader in the visual communications industry, reinforcing its value as a consultative partner that offers comprehensive capabilities, a culture of creativity and forward thinking.
In addition to detailed information regarding Gable's service areas, Gable's new Website presents a robust portfolio highlighting featured projects and case studies, a blog featuring company news and industry insights from Gable leadership, and a careers page that highlights Gable's thriving company culture and job openings as Gable continues to grow and expand.
"We are excited to refresh our look online and improve how we reach clients in a technology-driven world," said Paul Gable, founder and CEO of Gable. "The new Web site will help increase brand awareness, and more clearly communicate what makes Gable a valued partner by bringing the people, technology, and experience to manage every aspect of a project successfully."
Gable's new Web site, gablecompany.com, offers an easy way to navigate enhanced content. Visual highlights of recent, high-profile projects across the nation captivate your attention. The refreshed new look emphasizes on Gable's unparalleled dedication to providing world-class visual solutions.