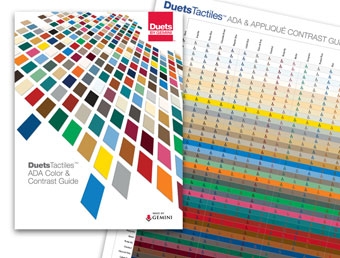 Gemini announces its DuetsTactiles™ ADA Color and Contrast Guide is now available to request online at DuetsByGemini.com. In an easy-to-understand fashion, the complementary guide explains the American with Disabilities Act Accessibility Guidelines (ADAAG) as it pertains to the design and installation of Americans with Disabilities Act (ADA) signs. At the same time, the guide provides a current overview of the industry-leading DuetsTactiles line of high-performance ADA wayfinding and appliqué substrates, with the broadest choice of ADA colors available in the industry today.
The DuetsTactiles ADA Color and Contrast Guide provides useful information on surfaces that need to contrast visually with their surroundings to provide enhanced visibility and wayfinding information according to ADAAG requirements. The guide includes a thorough overview of ADA signage compliance guidelines with information on font, sizing, mounting, positioning, color contrast, and surface reflectivity requirements.
The DuetsTactiles ADA Color and Contrast Guide also features a complete color contrast chart that presents all possible color combinations that can be achieved with DuetsTactiles substrates and appliqué. The ever-expanding Duets by Gemini line currently offers 47 color choices—the broadest line of ADA color options available in the industry today.
"The DuetsTactiles ADA Color and Contrast Guide enables our customers to easily select color schemes that are compatible with building décor, and that provide optimal contrast between characters and background, while giving consideration to lighting and environmental factors," said Gary Harder, Director of Duets by Gemini.
Designed for laser or rotary applications, DuetsTactiles ADA substrates are ideal for ADA and appliqué, wayfinding, architectural signage, exhibit display, retail display and interior branding.
"With hundreds of color contrast combinations, our DuetsTactiles ADA Color and Contrast Guide provides a valuable industry resource to help our customers better understand ADA compliance requirements," added Harder.