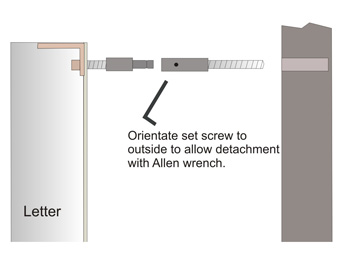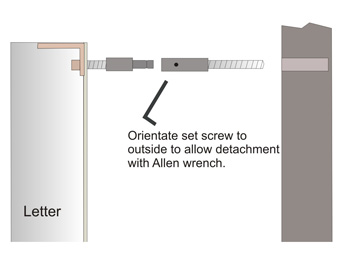 Sign manufacturers and installers are now able to remove letters from walls without damaging the mounting service thanks to a new patent-pending stud mount recently developed by Gemini Incorporated.
One of the world's leading manufacturers of dimensional letters, logos, and plaques for the sign industry, Gemini has created a detachable stud mount designed for Fabricated Stainless Steel letters. This new hardware allows stud mounts with stand-offs to be detached after installation when servicing is required. The perfect option for halo-lit letters with LEDs, installers can remove the cans for servicing without requiring visible mounting screws on the letter returns. Detachable studs can also be used with other letters products that require letters to be removed and serviced without having to pull studs out of the wall.
Gemini's new detachable study mount was developed in response to installation and servicing problems associated with Fabricated letters. Fabricated letters with LEDs are constructed with a clear polycarbonate back with LED lights attached with a bracket and set screw that goes through the letter return. Many people wanted a different option that did not have a screw showing on the outside of the letter. To solve the problem, Gemini designed a two-piece stud that has a set screw on a detachable collar. By using Gemini's new detachable stud mount, sign companies can install the letter and come back with an Allen wrench and remove the letter without external screws or fasteners ­ and without damaging the mounting surface.
Gemini's detachable stud mounts available for products up to 18 inches with 10 to 24 stud mounts and a 1.5-inch standoff.
For more information, call Gemini toll-free at 800/LETTERS or visit http://www.signletters.com.