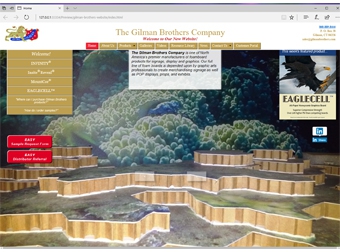 The Gilman Brothers Company is excited to announce the launch of their updated company website.
Still found on the web at www.gilmanbrothers.com, the website now greets visitors with a fresh new look and interactive menus. The home page will be updated weekly with featured products and company news.
Interactive and very user friendly, the website's homepage features easy-to-find drop down menus putting comprehensive product information just one click away. Also new is a complete resource library providing access to downloadable instruction sheets, cutting guidelines and technical data on the entire Gilman Brothers product line. The site's gallery features vivid slide show presentations of Gilman Brothers trade show booths at SGIA and GlobalShop built with INFINITY® styrene-faced foamboard and EAGLECELL™ all-paper graphics board. Visitors can scroll through images of sharks, palm trees, electric guitars, even a semi truck, all built from Gilman Brothers substrates. The site also features a series of promotional/training videos demonstrating INFINITY® and MountCor® low temperature adhesive board, with more videos expected to be uploaded in the coming months.
Brand new on the website is a Customer Portal. Gilman Brothers' premiere channel partners can log in to view order status reports with projected ship dates. "Customer service is key", explains Bill VanHorn, Director of Sales. "We're excited to the provide market place with tools and resources to not only grow profitable sales, but also consult and educate all levels of the supply chain in the graphics industry.