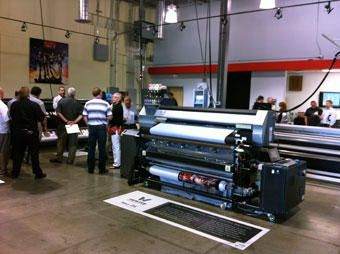 Global Imaging recently hosted close to 30 key industry leaders, manufacturers' reps and owners of some of the nation's largest and mid-size printing companies at its Workflow Studio Open House where it demonstrated top-of-the-line products, new inks and state-of-the-art printing technologies.
The featured products included the PrinterEvolution Evo33 DS and Neo DS series of industrial and commercial digital textile printers, the new PrinterEvolution Evo33 eSUV, the Novus Synergia H/UV printer with the new Warp Engine, the Kleiverik GTC Calender, the Zünd G3 flatbed cutter, Caldera Grand+RIP software and Barbieri Spectro color management technologies. Also throughout the showroom were beautiful output samples displayed in REXframe lightweight aluminum textile framing systems, a new addition to the Global Imaging portfolio.
Global Imaging's CEO, Greg Lamb, presented a series of informative discussions on the equipment, new eSUV inks and advances in digital textile printing and Greyscale technologies. Each presentation was followed by an impressive live demonstration to see the equipment in action.
The Workflow Studio is designed to emulate an entire grand format production facility so that a customer can see the most current and cutting edge products available. It is the only demo facility of its kind in the U.S. and includes a pre-press area, several types of grand format printing technology, a digital flatbed cutter, heat press for dye sublimation transfer process and a banner welder and sewing machines.
"We recognize that our customers make better business decisions when they see how the equipment all works together in an effective workflow environment," he said. "We find the Open House format gives everyone a chance to interact and exchange information, discuss their own business concerns and discover different and creative approaches and solutions to their needs. We were pleased to have such great response to our products and genuine interest in the growth of our industry especially in the area of digital textile printing."