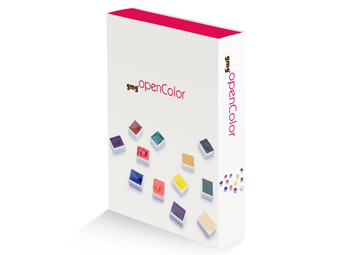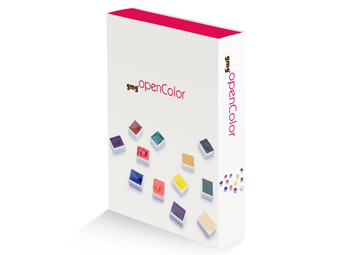 GMG, a leading developer and supplier of high-end color management software solutions, announces the commercial launch of GMG OpenColor, a software system that offers precise and predicable spot color simulation—and with less effort than other systems.
While producing accurate color proofs for most print applications is a relatively easy process —particularly when using GMG ColorProof—creating accurate proofs for packaging is still quite difficult. Package printers are increasing use of multicolor printing. Yet, standardization does not exist because spot colors and custom ink sets with more than four colors are typically used, along with a wide range of print processes and substrates. Many times, these sets are comprised of solely spot colors, without CMYK. In addition, brand owners expect tight color tolerances and reliable results for their brand colors, which require a good understanding of overprinting—the behavior of inks when printed on top of each other. And, offset doesn't overprint like gravure—ink film thickness and trapping properties are very different. Thus, printing and packaging companies spend an extraordinary amount of time fingerprinting their presses for all possible job variations, which includes a wide range of substrates, from paper to foils. This process is expensive, cumbersome and unreliable.
"Everyone in the packaging supply chain, from brand owners to design firms to package printers are dealing with a wide range of printing challenges," says Victor Asseiceiro, director, Business Unit Packaging. "They have to work with a wide variety of printing conditions with alternating numbers of colors, including CMYK and spots. GMG OpenColor offers an easy-to-use proofing solution. Brand owners have very high color accuracy expectations, no matter where something is printed. GMG Open Color is designed to address this complex and error prone problem in package production."
GMG OpenColor offers precise and predicable spot color simulation and overprinting behavior or color interplay. It creates high-quality multicolor profiles simulating the printing behavior of diverse printing technologies and media types—if necessary, without use of 'proprietary chart based' press fingerprinting. Its unique, spectral-based color model results in better colors simulations than any other proofing solution available.
New spectral modeling algorithms are coupled with spectral ink measurements that analyze spectral properties of each ink color, as well as the substrate's colorimetric properties. The measurement information is applied to a specific printing process (flexo, offset, gravure). Then process specific information is added (ink rotation, trapping, screening, etc.), and the final press condition is simulated. The process of profile creation is reduced from days to minutes, without expert knowledge. And, if needed, additional accuracy can be attained by taking additional overprint readings to meet the quality requirements of the customer.
GMG Open Color offers significant timesavings and predictable print results. With GMG OpenColor, one single proof can accurately simulate all colors of the design. This reduces the complexity and the number of proofs. It subsequently simplifies the color communication process between the partners in the supply chain. Color matching at press is easier and it eliminates test runs at the press and improves customer satisfaction due to predictable results and saves costs.
Different versions of GMG OpenColor to choose from
OpenColor comes with options for different printing technologies, including offset, flexo, or gravure. Each option contains its own specific profile creation algorithm. While selection of one printing technology is required, it is possible to license all options.
GMG OpenColor is available in both a Basic or Plus version. The Plus version offers additional features for even greater quality to meet process control demands. These include:
Use of the Create Profile Wizard for full control of the profiling process
The ability to manually edit profiles; for example, substrate overprint behavior or dot gain corrections.
Enhanced print charts for even more precise overprint simulations. Spot colors can be characterized with charts that contain overprints.
Export of static MXN profiles for offline use or to prevent profiles from dynamically—or unintentionally—changing.
"With GMG OpenColor, once prediction of overprint behavior of inks is available, prepress companies and converters can eliminate colors within a job, reducing press stations without compromising critical brand colors. While done today, this process can be very expensive and is often created by trial and error," explains Asseiceiro. "Accurate proofs help to prepare data, flexo plates and gravure printing cylinders correctly. The risk of having to stop the production because of wrong plates is significantly lower. The best part is that OpenColor offers simple proofing with easy profile creation—anyone can do it."