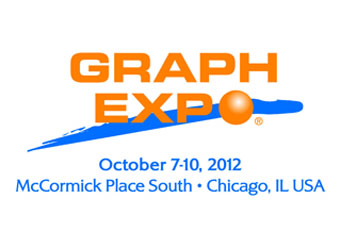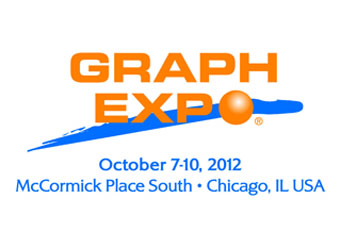 Chicago will be the place to be for all graphic communications professionals from across the Americas and beyond as GRAPH EXPO 2012 takes place October 7-10 at McCormick Place South. Now spanning the realm of print, online, and mobile, not only will the hottest new technologies be on display, but also there will be a full slate of new educational sessions, forty-five co-located events across twelve key market segments, exciting new show floor features, dedicated pavilions, several inaugural industry events, live technology demonstrations, and unparalleled networking opportunities.
Learning opportunities will begin October 6 with the annual pre-show EXECUTIVE OUTLOOK trends and technology conference that this year will focus on "Using Marketing and Technology to Innovate and Thrive." Sponsored by EFI and Xerox, the half-day conference will conclude with the announcement of the MUST SEE 'EMS "Best in Category" awardees and Positively Print winner.
The forty-five co-located events that will include organizations' conferences, user-group meetings, awards ceremony banquets, and other special events held in tandem with GRAPH EXPO will provide networking opportunities and education in the areas of commercial and quick printing, in-plant printing, digital and transactional printing, future print, marketing and creative, newspaper printing, package printing and converting, post press/finishing/mailing, print buying and brokering, and workflow/color management.
Other educational opportunities will include some fifty "hot-topic" sessions in thirty-one trending education categories that will address the needs of the full spectrum of the graphic communications industry including, for the first time, a track for corporate/educational/in-plant centers.
Also new for 2012 is the Global Channel Partners Summit (a show floor hub where dealers will come to examine current industry trends and network with manufacturers and customers) and the PrintMediaCentr "Experience the Printerverse" (an exciting, new "home base" for all attendees to meet, Tweet, learn, share, interact, and explore the latest innovations and applications that are driving the industry forward in exciting new directions).
Other highlights will include the Seventh Annual Print Buyers International Print & Media Conference, the Xplor Conference, and the G7 Summit 2012 from IDEAlliance. Registrants for any of the educational sessions also will receive a free GRAPH EXPO 2012 floor pass.
GRAPH EXPO's variety of specialty show floor sections, areas, and pavilions will include the debut of The CPP Zone—a unique new converting area specifically designed to complement the growth of package printing exhibitors, technologies and offerings.
Attendees will also find the return of:
+ The highly popular Marketing Pavilion, which offers education, resources, and networking opportunities for today's marketers;
+ The fourth annual GREENspace, a showcase on sustainability and eco-friendly products and services;
+ News Print—the newspaper pavilion, back by attendee demand for a third year at GRAPH EXPO as the dedicated show floor section for newspaper printers and production executives;
+ The Mailing & Fulfillment Center, the industry's largest mailing event anywhere in the Americas offering new solutions here and extending even beyond its boundaries across the entire show floor;
+ The Prepress/Software: Workflow & Design and Press/Finishing/PackPrint/Photo Imaging sections and, featuring Future Print, sponsored by FlexTech Alliance to showcase two of today's hottest technologies Printed Electronics and RFID; plus
+ Education Main Street, for attendees seeking well-educated, talented industry newcomers to augment their company's workforce.
Notably for this year's GRAPH EXPO the very latest and most diverse array of innovations and solutions in Wide Format printing/imaging and Package Printing will be demonstrated by vendors throughout the expansive show floor.
Another highlight of GRAPH EXPO 2012 is the International Buyers Program, sponsored by the U.S. Department of Commerce, which brings international buyers together with U.S. firms.
GRAPH EXPO 2012 attendees who book through the official housing service are guaranteed the best rates at the most popular and convenient hotels in downtown Chicago. For more information visit www.graphexpo.com/HotelTravel.aspx.
For complete information about GRAPH EXPO 2012 and to register, visit www.graphexpo.com. You can also follow the show on Twitter: #GraphExpo.