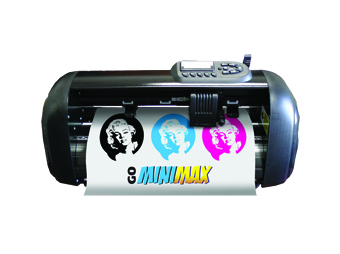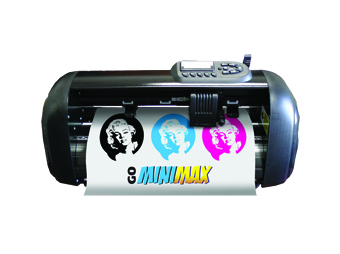 Graphics One, LLC (GO), an international distributor dedicated to providing innovative, high-quality products to digital imaging professionals worldwide is launching the GO MiniMax, a professional sixteen-inch desktop contour cutter designed as a stand alone cutter or for use as a full print-n-cut solution with GO's OKI LED transfer printers.
The GO MiniMax is a professional desktop contour cutter offering a maximum media width of sixteen inches, and a maximum cutting width of fourteen inches.
GO's MiniMax is powered by a "ultra smooth" and quite servo motor providing fast cutting speeds of up to 26 inches per second and up to 750g of cutting force.
The GO MiniMax cutter features an optical laser sensor system for use in detecting registration marks with a 3-meter media tracking system for accurate contour cuts every time.
The GO MiniMax desktop cutter is solidly constructed with aluminum alloy and high-impact ABS side panels.
The user-friendly control system offers easy navigation.
GO's MiniMax cutter provides fast setup with a true USB connection eliminating the need for traditional CD driver installation. In addition, the GO MiniMax comes packaged with specially designed FlexiStarter Cloud edition software, the industry's leading layout and output package for vinyl cutters, and an optional stand is available for easy storage solution.
According to Christian Sam, GO Marketing, "We are pleased to introduce the GO MiniMax desktop cutter to our professional line of dedicated contour cutters. With the sixteen-inch media width, the GO MiniMax is perfect for any letter, legal, tabloid, and roll sized contour cutting of designs. The MiniMax cutter enables our customers to print on a variety of transfer films using their LED transfer printers for different transfer applications.
"Additionally using our line of self-weeding transfer papers and then using the professional capabilities of the contour cutter can create unique apparel transfers, making this cutter a great value for our customers."
The GO MiniMax cutter is perfect for contour cutting designs on 8-1/2-by-11-inch and 11-by-17-inch sized transfer papers and vinyl rolls for applications such as T-shirt and apparel transfers, car decals, bumper stickers, vinyl lettering, promotional stickers and much more.
For more information, visit www.graphicsone.com.