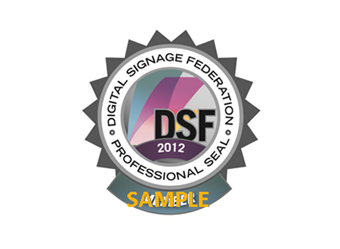 The Digital Signage Federation®, the only independent not-for-profit trade organization serving the digital signage industry, announced today that end-users and industry suppliers are continuing to sign on to support the DSF standards policy represented by the organization's Seal of Professional Excellence.
Angela Tang, Marketing Manager for AOpen America, who co-Chairs the DSF's Standards Committee said, "Program support is growing because the DSF Seal of Professional Excellence is synonymous with ethical business practices and companies in the digital signage industry want to assure their clients that they can be counted on to deal fairly and professionally."
The DSF Seal of Professional Excellence is a tangible designation for organizations that have committed to support and adhere to the DSF's Professional Standards. The seal is intended to be a graphic symbol synonymous with excellence in professional conduct and integrity within the digital signage industry.
New companies who have signed the DSF pledge and support the program include: Peerless-AV, Eyelook Media Inc., The Marlin Company, Trapeze Media, Drive Media Networks, Rollouts, Inc., Futuresign Multimedia Displays, Installers Northwest, Chelsea Information Systems, Star Signs LLC, c3ms Media, and TouchSystems.
These companies join previous supporters: Brawn Consulting, BroadSign International, Care Media Holding Corp., FastSigns International, Real Digital Media, Respario, LP, Saddle Ranch Digital, Starcom Worldwide, and Wendy's International.
More information on DSF's Seal of Professional Excellence can be found on the DSF Web site at http://digitalsignagefederation.org/dsf_seal.
To view the list of companies who have pledged their support to the seal, please visit http://www.digitalsignagefederation.org/specompanies.
The .pdf application can be downloaded and submitted online.