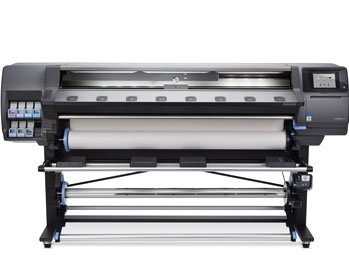 The HP Latex 360 printer, available from GSG, produces durable images at high speeds on a range of indoor and outdoor sign media while offering the health and eco benefits of water-based ink.
The unit enables printers to take advantage of third-generation HP latex printing technologies. This allows for a healthier work environment with no HAPs and no special ventilation. It also offers opportunities to expand into markets not open to solvent-based printing.
Created for reliable automatic printing, high productivity, and low power consumption, the HP 360 reaches production speeds quickly. This means a minimal wait time and less printer monitoring. It features an eight-inch touch screen, automatic maintenance, and easy substrate profiling.
The optical media advance sensor (OMAS) ensures against media advance errors leading to banding and controls registration automatically. The versatile 360 can print on materials up to 64 inches wide in six colors at 1,200 dpi and offers full-bleed capability. Prints dry instantly and come out of the machine completely cured and ready for finishing or delivery.
The HP360 Energy Star®-qualified printer meets strict energy efficiency guidelines and is EPAT-registered®. HP Latex Inks are UL Ecologo®, Greenguard Gold Certified, with outdoor print durability of up to five years laminated and three years unlaminated.