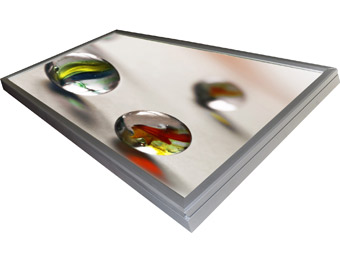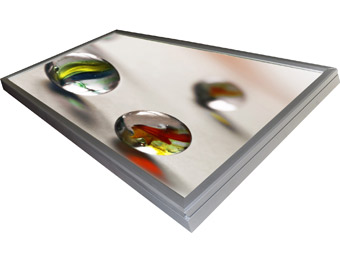 A sleek and sophisticated new way to illuminate any translucent material is with the use of Lumatek Edge-Lit panels. Offered by Graphic Solutions Group, these display frames are designed with the latest technology, which uses LED lights along the edges to provide lighting. Pieces such as photographs, art, or menus printed onto a transparency or Duratrans are simply positioned onto the panel and held in place using the snap-open frame.
The panels can be mounted, just like a traditional picture frame, in any position including portrait or landscape. The frame is 1 ½ inches and the finishes come in satin silver or black. The LED's lifespan averages 50,000 hours, which is more than 5 years.
The electrical output, which is UL listed, is 100-240in 12V DC and the electrical input is 12V DC adapter 5' barrel male to female exit. Mounting hardware is included for quick and easy installation. The cover sheet is .030" clear polycarbonate clear lens. Panels come in sixteen sizes ranging from 14 inches-by-18 inches up to 3 feet-by-4 feet.