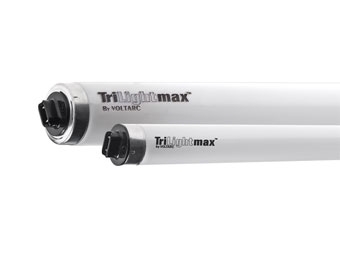 Voltarc's TriLightMax T8 and T12 fluorescent sign lamps, offered by GSG, are designed with Long Life™ technology, which uses high-quality tri-band phosphors to yield excellent color rendering for maximum lumen output and low maintenance. The T8 is rated for 60,000 hours of useful life, which is six times longer than a standard T12 HO lamp and 40 percent more efficient.
The T12 TriLightMax lamps have 50,000 hours of rated useful life with 25 percent greater efficiency. Using TriLight Max T8HO and T12HO lamps means fewer replacements and fewer service calls.
Energy efficient and environmentally friendly, the TriLight Max Long Life™ fluorescent lamps with Cup-Cathode technology are compatible with most magnetic and electronic sign ballasts.
Designed with the sign-maker and serviceman in mind, the TriLight Max series of Long LifeTM fluorescent lamps are made to the same lengths as standard T12 high-output lamps, so they will easily fit into existing systems. TriLight Max lamps are available in T8 and T12 styles from the F18T12/HO to F96T12 HO TUFSTRAIGHT, F108T12/HO to F120T12/HO XtraLong styles and in standard TUFBEND U-Bend styles.