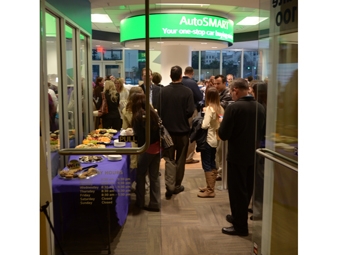 Codigo has partnered with NanoLumens, world leader in LED indoor displays, to create an immersive and interactive environment for GTE Financial's newly redesigned Downtown Tampa location at 601 N. Ashley Drive.
"The new space layout is designed to be more open, eliminate teller lines, and offer visitors an engaging and interactive retail-like experience," says Mandy Zurbrick, vice president of Marketing at GTE Financial. "When you walk in our new branch, we want you to feel welcome and have convenience at your fingertips via both member service representatives and technology. We are striving to deliver an exceptional experience."
"The financial industry is in the midst of an exciting transition," says Brian Nutt, President/CEO of Codigo. "We're seeing more institutions move away from the traditional, transaction-based mindset to a more progressive, sales and service approach." The transition Nutt alludes to is exemplified in GTE Financial's recent branch transformation. "They've integrated the perfect mix of technology and people to create a highly interactive yet personal banking experience."
Hardware for the project included iPad kiosks, large format kiosks, a video wall, ribbon displays, and a NanoLumens' NanoCurve cylindrical display as the centerpiece for the location over the member services area to display bank messaging and welcome guests.
The NanoCurve display measures approximately two feet tall and ten feet in diameter, offering a total 64 feet of display space that can be viewed from virtually any location within the branch.
"The NanoCurve display adds an engaging 'wow' factor for branch visitors and passersby while conforming to the architectural demands of a circular centerpiece. With the 360 degree display, everyone in the Downtown Tampa location can enjoy the display and its content from anywhere in the branch," says Nathan Remmes, Director of Business Development for NanoLumens.
Codigo's digital signage software allows GTE Financial to remotely control its in-branch advertising and messaging displayed on the digital screens, video wall, and ribbon display. Additionally, Codigo's iPad and Large-Format kiosk solutions give branch visitors the ability to explore product and service information at their leisure, letting the credit union's staff focus their attention on those who require more personal attention.