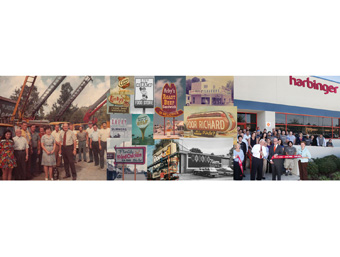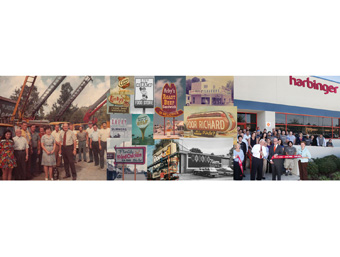 Harbinger, a national sign fabrication company, celebrates its fiftieth anniversary this December 12, 2012 (12.12.12) at their Jacksonville, Florida headquarters and National Call Center in Plano, Texas.
George Massey originally purchased the ten year-old company, named Willis Neon Sign Company, in 1962 in the Riverside area of Jacksonville. Massey changed the name, and during the 1960s, Quality Neon Sign Company began fabricating and installing convenience store and other retail location signage (notably Lil Champ) in the northeast Florida area.
Roger Williams, son-in-law of George Massey, took the reins of Quality Sign in 1973, and under his leadership the company grew into its 27,000 square foot Sunbeam Road facility. Son Steve Williams grew up in the family business eventually receiving a degree in graphic design then helping to design and develop signage for clients.
Steve Williams, now President initiated a re-branding and relocation of the company. Now known as Harbinger, the name indicates what they are best known for, the "Sign of the Future," a commitment to the highest and best LED lighting technology integrated into quality signage.
"The last fifty years has seen challenges and rewards, when we first moved to our current location we did not imagine growing into a space twice the size so quickly," states CEO Roger Williams. "This is a significant milestone for any company and we are proud to have been serving our customers throughout the U.S. for half a century."
The current headquarters house a project management division, design studio, and 69,000-square foot manufacturing and shipping facility. In 2010 Harbinger opened a 5,000-square foot National Call Center, located in Plano Texas, to provide nationwide maintenance and service to existing and new customers.
Harbinger has served some of the world's most-recognizable brands for more than five decades including 7-Eleven, Gate Petroleum, CircleK, Baptist Health Systems, the Jacksonville Jaguars, and Edwin Watts Golf. For more information, visit www.harbingersign.com.