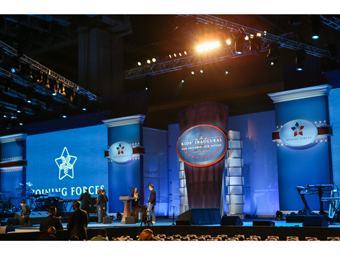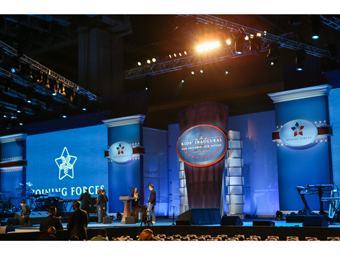 For the sixth consecutive time (and the seventeenth overall), Lanham, Maryland-based Hargrove, Inc., was selected as the official general services contractor for the Presidential Inaugural Committee, from January 20-21, 2013 at Washington, DC venues including the Walter E. Washington Convention Center and National Building Museum.
For Obama's second inauguration, the tradeshow, exhibit, and event production company worked on the two official balls from the Presidential Inaugural Committee, the committee's candlelight dinner at the National Building Museum, the Kids Inaugural, the official parade floats, nine unofficial events, and the large volume of signage related to the inaugural activities. Hargrove managed an extensive variety of responsibilities including design, fabrication and production as well as management of all technical services (lighting, sound and video). And, nearly 43,000 square feet of the displays they created were finished using Esko´s digital finishing solution: the i-cut Suite layout software and the Kongsberg i-XL24 finishing system.
As one of the leading event, tradeshow and exhibit companies in the U.S., Hargrove has played a role in each inaugural since President Harry S. Truman's second inaugural in 1949 and has served as the official general contractor since President Bill Clinton's first inaugural in 1993. Hargrove is one of the top twelve event companies in the U.S., serving more than 1,000 tradeshows, events, and exhibits each year.
"We created about 78,000 square feet of graphics that covered various stages and floats, printing different designs on a VUTEk GS3200, a Scitex XLJET 1500 and a Roland SOLJET PRO4 XR-640," comments Rush Zbir, Hargrove director of the graphics department. "More than half of them were sent to Esko´s Kongsberg table—everything from flat Presidential seals to 3D seals, logos, and cut-out shapes.
The biggest challenge? Hargrove did not have a signed contract until just before Christmas.
It takes almost 3,000 man-hours to build eight floats. This year Hargrove had twenty days to put everything together, with close to 60,000 man hours. The turnaround time was even more significant when you consider that the company was also involved with eight other major projects and seventy-five regular projects (including a major corporate project and auto tradeshow).
"We started 'swinging a hammer' just three weeks before all these materials were due," notes Zbir. "We worked straight to the event. All 250 full-time employees get involved in the project, along with 70 temporary workers hired specifically to work on the inauguration. Our graphics department ran three shifts 24/7.
"Sixteen people were working seven days a week, and as many as fifteen hours a day."
"We used more than 60,000 feet of lumber. We fabricated the wall and trim structures, and all of the ancillary design items for ballrooms. Most were finished using the one Kongsberg table," adds David Flanery, Director of fabrications.
"Back in the day, we printed and cut all the materials by hand," says Aaron Capp, senior operator. "We had twenty-five people on the floor manually putting printed vinyl materials onto the substrate and measuring how to get it cut. Now, without our Kongsberg table, we would have needed much more manpower. We'd have to employ twice as many temporary staff just to get the graphics produced.
"Our Kongsberg i-XL24 is the backbone of the graphics department. Everything has to be finished, and most pieces need a custom cut. They're rarely square. We could not have gotten the job done without the system."
According to Christopher "Chewy" Marcotte, Hargrove CNC operator, "The Kongsberg table allows us to create more challenging graphics—for example, eight-foot dimensional seals, each with six to seven layers of different substrates with routed letters, aluminum and other materials. Remember, everything has to be of production quality for television. The pieces are covered in muslin, and there cannot be any seams. The most intricate piece was the seal. We work on many more complex materials than foam boards; we also cut materials like Lexan®, Dibond®, Sintra®, polycarbonates, and acrylic."
"Every part of our company gets involved to create the Presidential seals. When the work is complete, nothing goes until everyone looks at each piece 100 percent," adds Flanery. "Only then does it get packed into a truck.
"Inaugurals are very special, and not everyone can get them done. Quality is 'number one' for an event like this."
The cutting instructions themselves are created in Esko´s i-cut Suite Layout. "Before we had our cutting software, we were nesting our graphics in Adobe® Illustrator®," remembers Zbir. "i-cut Layout sped the process up a lot. It has reduced file preflight by 75 percent.
"Now we can do more in an eight-hour shift, and we can move from one project to another seamlessly."
Lana Ostrander, director of Marketing and Public Relations, concludes, "Our client, the Presidential Inaugural Committee, was very happy. This is more than a project to Hargrove. Of course the turnaround is a challenge, but many of us have been involved in at least one. Hargrove has demonstrated that we have the dedication, history and expertise. We understand what it takes to do a successful job for them. This project translates to all of the other work we do.
"Last year was our biggest year. We managed three global summits, state and international events, and the Democratic National Convention. We produced 1.5 million square feet of graphics, which would cover 23 football fields—including the end zone. Starting with the Presidential Inauguration, 2013 looks to herald an extraordinary era for our company, and the Kongsberg table will continue to play an important role for us."
About Hargrove, Inc.
Hargrove is a nationally renowned general contractor for tradeshows, events, and custom exhibits. From major industry tradeshows to high-profile national events and custom exhibits that successfully drive revenues, Hargrove helps corporations, associations and organizations bring their vision to life with face-to-face experiences.
For more information, visit www.hargroveinc.com.
About Esko
Esko is a global supplier of integrated solutions for the packaging and labels, sign and display, commercial printing and professional publishing industries. Esko products and services drive profitability in the packaging and printing supply chain by reducing time-to-market and raising productivity.
For more information, visit www.esko.com.