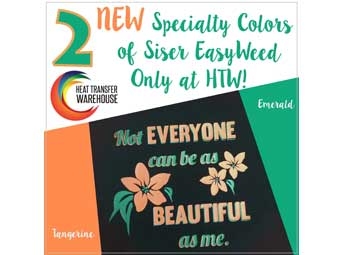 Heat Transfer Warehouse is excited to add even more custom colors to our existing variety of Siser Easyweed.
Tangerine (E W7061) and Emerald (E W7062) are the two new colors and are only offered here at Heat Transfer Warehouse. They are available for purchase now, so place your order and add them to your collection. These new colors are available in 15-inch width only.
Easyweed is great for garment decorators of every kind. It is a product known for its simplicity. EasyWeed is as it sounds, "easy to weed." The cut lines and the design image are clearly visible, which makes it easier to weed away all the extra material around your desired design. Once all the excess is peeled away, it can be applied with a heat press.
EasyWeed is also a safe product to use for decorating even children's apparel. It is a CPSIA certified material and is free of any lead or phthalates.
"We are pumped to offer the new Emerald and Tangerine custom colors. Nobody else offers these and they look great together as well as with other colors we already offer. They really look great," says Hope, Heat Transfer Warehouse.