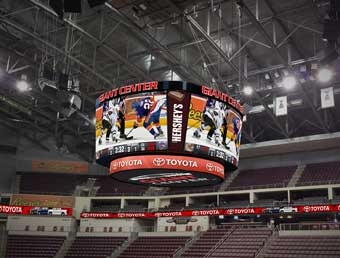 Hershey Entertainment & Resorts (HE&R) of Hershey, Pennsylvania, has selected Daktronics of Brookings, South Dakota, to outfit GIANT Center with multiple video displays, including a centerhung configuration. Installation is taking place this summer and will be completed before the fall sports seasons begin.
"When we looked for a partner on this important project, Daktronics stood out and has been a strong collaborator with us. We are excited that this new addition will create an even better experience for our fans and guests during their visits to GIANT Center events and AHL Hershey Bears hockey games," said Kevin Stumpf, general manager of Attractions & Entertainment at HE&R.
The centerhung configuration will incorporate four unique, convex-curved LED video displays, each measuring approximately 13.5 feet high-by-24 feet wide. The displays feature 6 millimeter line spacing and wide-angle visibility ensuring a great viewing experience from any seat in the house. These displays feature variable content zoning, which allows them to show one large image or to be divided into multiple zones that can be filled with any combination of live video, instant replays, animations, scoring information, up-to-the-minute statistics and sponsor highlights.
Included with the centerhung configuration is a ring display with 10 millimeter line spacing that measures 3 feet high and has a circumference of 94.5 feet. The installation will also include an endwall display measuring 13.5 feet high-by-31 feet wide with a 10 millimeter line spacing and a ribbon display mounted to the fascia of the seating area that will measure 2 feet high by 906 feet wide and feature 15 millimeter line spacing. These displays will help enhance the fans' game-day atmosphere with statistics, scores, animations and sponsor highlights.
"Daktronics is very proud to partner with Hershey Entertainment & Resorts on this truly impressive upgrade at the GIANT Center," said Scott Willson, Daktronics sales representative. "The new fully integrated centerhung, ribbon displays and end zone display will set the bar for minor league hockey venues around the country. We worked closely with the talented staff at the GIANT Center to come up with this unique design and we look forward to opening day. The loyal fans around Hershey are going to be blown away by the new atmosphere in the arena."
Daktronics LED video and messaging display technology offers a long lifetime with consistent, industry-leading performance and low power consumption, providing value and excitement for years to come.