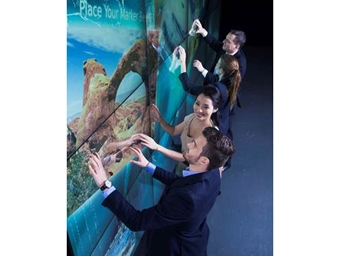 MultiTouch Ltd., the world leader in interactive displays, has announced the new MultiTaction® iWall, a 16-by-8-foot interactive video wall with 24 Megapixel resolution, providing the ultimate interactive solution for corporate public spaces. The MultiTaction iWall includes 12-by-55-inch ultra-thin bezel MultiTaction® displays and sets a new standard for interactive walls. With its flush, frameless design, MultiTaction iWall allows easy architectural unification and provides aesthetic appeal for high-value spaces.
MultiTaction iWall utilizes MultiTouch's proprietary 200 fps CVTS (computer vision through screen) touch tracking that delivers industry-leading responsiveness to an unlimited number of concurrent users. With its immense scale, MultiTaction iWall makes an immediate impact on any audience in any location. High-quality design, state-of-the-art interactivity, and superior graphics make MultiTaction an interactive experience that has not been available in the market before.
MultiTaction iWall also includes two unique features that only MultiTouch can deliver. With its concurrent touch, IR pen and real life object tracking, MultiTaction iWall becomes a social experience, inspiring its users to collaborate, communicate and explore. Combined with the award-winning MultiTaction Codice™ technology that identifies users, the MultiTaction iWall enables new ways to think, innovate and create.
MultiTaction iWall offers an unparalleled feature set including; playback support for multiple concurrent 4K videos, the customizable MultiTaction® Experience application, and user identification capabilities through MultiTaction Codice.
What makes Codice unique is its ability to create a truly bi-directional communication channel between the user and MultiTaction iWall content. Codice codes can be printed on visitor badges or ID cards and by placing them on MultiTaction iWall, the users are identified and can access exclusive content or even a company presentation.
With the MultiTaction Experience application and free Cornerstone 2 SDK, developers can build customized interactive applications that integrate with the MultiTaction iWall. From idea to final output, the solution allows corporations to create a smarter workplace and provides immense opportunities in concept design, content development and brand integration.
"MultiTaction iWall is the new standard for interactive walls in corporate public spaces," explains Timo Korpela, general manager of MultiTouch Americas. "iWall is the ideal business solution that is customizable with user identification capabilities. As a turn-key solution it is easy to specify and deploy, and MultiTouch's world-leading technology ensures that no other interactive wall can compare."
MultiTaction iWall includes mounting and cooling systems, speaker system, a server-class computer, warranty and on-site installation services. The turn-key system is available immediately for $299,500.
For more information on MultiTouch, please visit www.multitaction.com, as well as the MultiTouch YouTube channel at www.youtube.com/multitaction and www.twitter.com/multitouchfi.