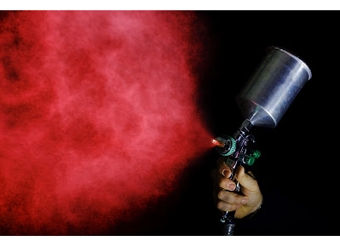 Sign Builder Illustrated contributor Jim Hingst writes: "If you are spray painting or airbrushing an enamel, a dust mask will not provide you with adequate protection. Prolonged exposure to the chemicals in paints can make you sick and eventually could kill you.
"That's why, if you have a choice between spraying or air brushing and using a paint brush, your safer choice is the brush. Anytime you atomize a liquid, you produce a mist of a million microscopic particles, which can float in the air that you breathe for hours.
"If you are spray painting or air brushing you need good ventilation to rid the air to the vapor. Even if you are spraying a water-borne paint, such as Createx Auto Air, you should at least wear a good-quality, multi-ply dust mask. When spraying enamels, you should be wear a chemical respirator, safety glasses and latex painters gloves. Working with urethanes requires additional equipment."
To read more, check out the latest "Hingst's Sign Post" blog HERE.