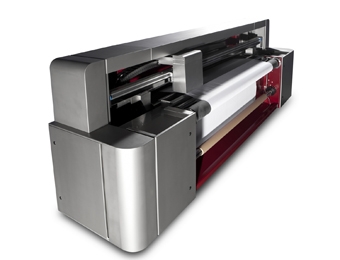 Making its debut with a new digital textile printer at this year's SGIA expo in Orlando, Florida, is specialist developer and manufacturer Hollanders. The company, based in the Netherlands, is planning to use the event to announce the arrival at the start of next year of its entry-level ColorBooster 250 2.5m wide format machine (pictured). In addition, the established 3.2m ColorBooster XL and innovative double-sided ColorBooster DS options will be introduced to the American market.
The ColorBooster 250 is designed to bring digital textile printing to a wider audience with its popular width of 2.5m and a low investment cost. Incorporating many of the renowned features built into the ColorBooster XL, it is suitable for interior applications when used with low-energy dye sublimation inks or as a multi-functional system ideal for indoor and outdoor wide-format graphics with its high-energy direct disperse dyes.
Its ergonomic and sleek build features a sophisticated system that guarantees high quality production on a broad selection of polyester textile materials. In common with all machines developed by Hollanders, the ColorBooster 250's construction and technology is designed to provide many years of trouble-free printing and is manufactured in its entirety in Eindhoven, The Netherlands.
Available in three versions, the ColorBooster 250 can be configured to suit the production requirements of the user, with upgrade paths from the Starter and Productivity Editions to the Ultimate Edition.
"This printer has been designed using the technology which has been key to the reliability and longevity of systems from Hollanders," explains Peter Hollanders, who has developed all machines in the company's portfolio. "Research and enquiries have demonstrated to us that there is a strong market for a cost-effective solution that suits businesses entering the textile sector for the first time and want a modestly priced machine. Our new system provides the perfect option, and we see the American market as an important area for growth."