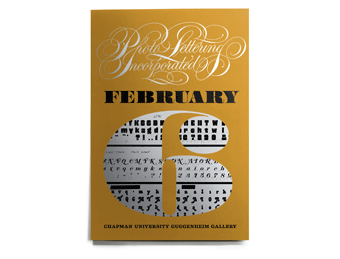 A new exhibition opening February 6 at Chapman University's Guggenheim Gallery displays mechanical-era graphic artifacts with their modern iterations and deftly demonstrates the relevance of traditional graphic arts techniques in a contemporary context. By adroitly juxtaposing traditional materials and processes with contemporary applications, Fanatical Mechanical is less a history lesson and more a lesson of how to learn from history.
A House Industries-designed Photo-Lettering installation forms the centerpiece of the exhibit as a rare example of traditional 20th Century techniques re-invented as Twenty-first Century design tools.
Photo-Lettering was one of the earliest and most successful type houses to utilize photo technology in the production of commercial typography and lettering. Founded in 1936, Photo-Lettering eventually succumbed to the digital publishing revolution with most of their timeless alphabet styles and propriety composition techniques lying fallow for decades. House Industries acquired the collection in 2003 and has since been working on a modern practical Photo-Lettering service while maintaining its legendary quality, sophistication and sense of style.
Anchoring Fanatical Mechanical are twelve forty-inch square hand-printed panels forming a fourteen-by-ten-foot schematic of the original Photo-Lettering workflow with a comparison to the modern web-based process while a custom interactive kiosk allows attendees to interact with the current Photo-Lettering Website in the context of the exhibition. Floor to ceiling scrims, custom lithographic wallpaper and free-standing hand-cut wood letter specimens round out the exhibit while reinforcing the relevance of paste-up era craft in a modern aesthetic environment. House Industries loaned numerous original artifacts chronicling PLINC's history such as specimen books, alphabets films and ceramic items used for customer gifts.
More information about Photo-Lettering is available here: http://www.photolettering.com/about/history/ and on the photolettering.com press page: http://www.houseind.com/press/photolettering/.
Exhibition Fact Sheet
Opening: Feb. 6, 2012, 5:30 p.m. to 9:00 p.m.
Opening Lecture: Rich Roat of House Industries, Feb. 6, 2012, 6:00 p.m.
Place: Chapman University Guggenheim Gallery, Orange, California
Exhibition Runs from Feb. 6 through March 9, 2012
Open Monday through Saturday 11 a.m. to 5 p.m.
Gallery website: http://www.chapman.edu/art/guggenheim
About House Industries
House Industries is known throughout the world for its eclectic typeface collections, elaborate design work and far-reaching exploits into products, textiles and furniture. Through a synthesis of original elements and carefully curated collaborations, House Industries choreographs visually tactile experiences. Their work is defined by a timeless authenticity that is only achieved with rare aestheticism, fundamental skills and a genuine love for their subject matter. For more information, visit www.houseind.com.