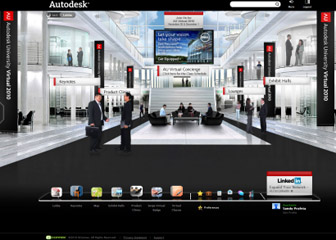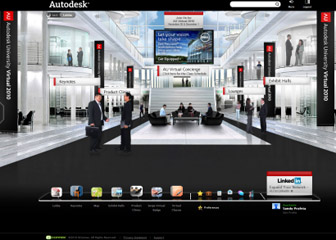 At Autodesk University 2010 starting December 1, HP is demonstrating the power of its technologies to transform the way design professionals work and to provide Autodesk users with a significant engineering edge.
HP also announced the launch of DesignByMany, a new challenge-based online community for the architectural, engineering and construction (AEC) industry.
In the Autodesk Best-in-Class Lounge and HP booth 115, HP will demonstrate its suite of award-winning HP Z series workstations, which are used by Autodesk to develop, test and demonstrate its own products, as well as the new HP Designjet T2300 eMultifunction Printer (eMFP) with the HP ePrint & Share platform, which allows design teams to access, share and print large-format project files online. (Note: Upgradeable functionality planned to be available in 2011. Requires an Internet connection to the printer. Feature works with any Internet- and email-capable device.)
"It is crucial to provide design professionals with tools that fit their mobile and collaborative work styles," said Santiago Morera, vice president and general manager, HP Designjet Large-Format Solutions, HP. "At Autodesk University, we will show how HP has responded to this need by simplifying the printing process from AutoCAD and providing tools that enable the effective sharing of print-ready files so these creative minds can focus on building and executing their ideas, rather than managing cumbersome design and print processes."
Comprehensive Design Solutions from HP and Autodesk
HP is leading the way in providing solutions for technical design professionals through a combination of software and service partners and an unmatched portfolio of products.
HP has collaborated with Autodesk to offer an integrated workflow solution that helps design professionals improve efficiency, collaboration and productivity on every project. The HP ePrint & Share plug-in for HP Designjet simplifies the printing process directly from AutoCAD, allowing users to access HP ePrint & Share directly from the application and create print-ready files with just one click while printing from AutoCAD.
Also included with every HP Designjet T2300 eMFP purchase, AutoCAD Raster Design enables the full scanning and vectorization of sketches, printed plans or blueprints so design professionals can manage, convert, analyze and edit images from scanned paper draw­ings in AutoCAD software and applications based on AutoCAD. (Note: Software delivered as a free thirty-day trial and requires the 2011 release of AutoCAD software or an AutoCAD-based product.)
In addition to improving workflow with HP ePrint & Share and the HP Designjet T2300 eMFP, HP Z Workstations are engineered to optimize the way hardware and software components work together, delivering massive, whole-system computational power that helps maximize productivity and make 3-D design and visualization fast and efficient. HP thoroughly tests and certifies each HP Workstation model for Autodesk applications, and HP Performance Advisor offers special features to optimize the performance of Autodesk applications.
"As our customers move to building information modeling and digital prototyping, many are choosing powerful HP Workstations and printers, so they can fully benefit from our advanced 3-D visualization, simulation and analysis tools," said Jeff Kowalski, chief technology officer, Autodesk. "HP Z Workstations also play a critical role in Autodesk's development process, and we are pleased to supply HP Z Workstations to our attendees for use in hands-on classes here at Autodesk University."
In the HP booth, HP Z Workstations will be used to demonstrate features that benefit Autodesk customers, such as the newest version of HP Performance Advisor, a tool that helps users set up and optimize HP Z Workstations to match their Autodesk application requirements. HP also will demonstrate the outstanding performance of AutoCAD on an HP Z200 Workstation, which earned the official AutoCAD certification label, as well as "Inventor" running at its best on an HP Z600 Workstation and the full range of HP EliteBook Mobile Workstations.
Also on display in the HP booth, the HP Designjet T7100 Printer series is designed for central reprographic departments in enterprises and reproduction houses. Significantly less expensive to acquire and operate compared to competing technologies, the device is available in monochrome or color models and streamlines print production by offering speeds of up to four D-sized pages per minute, the capacity to manage up to three media rolls and the HP Smart Roll Loading System. (Note: The HP Designjet T7100 Printer offers up to 66 percent lower total cost of ownership over three years against competitive color devices and up to 50 percent against competitive monochrome solutions, based on HP internal testing as of September 2010.)
New DesignByMany Community Fosters Collaborative Design
HP is supporting DesignByMany, a new online community that enables designers to collaborate through a variety of design challenges. Organized by David Fano, founder of design technology consultancy CASE and an adjunct professor at Columbia University's Graduate School of Architecture, the DesignByMany community encourages technical design professionals from around the world to share their skills and visions to improve the community as a whole through architectural design projects.
HP will support a series of challenges on the site around the theme, "Building for the Greater Good." The first challenge, which kicks off at Autodesk University and runs through December 17, calls for the creation of a parametric version of Buckminster Fuller's Dymaxion House. Entries will be judged by an esteemed panel of industry thought leaders, including Shane Burger from Grimshaw Architects, Nicholas Rader from Snøhetta and Robert Yori from Skidmore, Ownings & Merrill LLP. The winner will receive an HP Designjet 111 Printer.
Learning Opportunities from HP at Autodesk University 2010
Autodesk hands-on class participants, as well as AU Virtual attendees, will have opportunities to learn new tips and techniques using HP technologies provided at the event.
* Will Allen, chief technologist, Graphics Solutions Business, HP, will join Robert Vizza, director, Autodesk Global Alliances, and chief technology officers on the Technology Main Stage on Dec. 1 at 6 p.m. PT. The panel will discuss emerging technologies and near-future breakthroughs, including solutions from HP that streamline the large-format printing experience.
* Tom Salomone, segment marketing manager, Workstations, HP, will present a class titled, "Tips and Tricks 2010: Getting the Most from New Desktop and Laptop Technologies," on Dec. 1 at 8 a.m. PT.
* Eduardo Garcia, research and development manager, Designjet, HP, will present a class titled, "Finally! Easy Printing and PDF Generation with AutoCAD," on Dec. 2 at 9:30 a.m. PT in Palm C.
Visitors to HP booth 115 can enter a drawing for a new HP Designjet T2300 eMFP with HP ePrint & Share, HP Z400 Workstation with ZR24w 24-inch Professional Display, HP EliteBook 8740w Mobile Workstation or one of three Nvidia Quadro graphics boards. Attendees also can try to disassemble and reassemble an HP Z800 Workstation in less than one minute for a chance to win a small gift. Visitors to the Autodesk HP Best-in-Class Lounge will have the opportunity to win one of two HP Mini 5103 Notebook PCs.
More information about the latest additions to the HP Designjet portfolio is available at www.hp.com/go/collaborate.
HP ePrint & Share is available as a free download at www.hp.com/go/eprintandshare.
Videos and insights from customers using the HP Designjet T2300 eMFP and HP ePrint & Share also are available on Facebook at www.facebook.com/HPdesigners, on Twitter at www.twitter.com/hpgraphicarts, and on YouTube at www.youtube.com/hpgraphicarts.
More information on HP Z series workstations is available at www.hp.com/workstations.