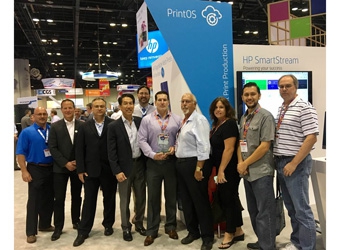 Today at Graph Expo 2016, HP Inc., announced new HP PrintOS capabilities and extended compatibility to additional digital press models, allowing more print service providers (PSPs) to enjoy the benefits of automated print production. HP also announced strong worldwide adoption of the PrintOS platform and MLI Marketing Solutions as the 1,000th PrintOS customer.
Global adoption of PrintOS has grown rapidly since the platform was launched at drupa 2016, reinforcing that customers of all segments and sizes are seeking simplified solutions to streamline prepress, maximize print performance and optimize production throughput.
"PSPs must deliver high-quality, error-free jobs faster than ever before to maintain their customers' trust and loyalty, and they're continuously challenged to maximize efficiency, uptime and productivity," said Bob Raus, category manager, HP Workflow and Solution Partner Programs, Americas, HP Inc. "PrintOS empowers PSPs to make better-informed production decisions, gain greater visibility and control over their operations and increase press uptime to grow their businesses.
"Innovating with and for its customers, HP will continually enhance the cloud-based platform to frequently deliver new features and apps that PSPs can leverage for long-term success."
New PrintOS Features Offer PSPs Enhanced Efficiency
The enhanced PrintOS platform allows customers to do more and print more with their existing HP digital printing technology. The new features are based on extensive engagement with early users and are designed to meet the needs of today's high-volume print production environments, from improved ease of use and increased personalization, to streamlined prepress processes.
The new capabilities and improvements are currently available for all ten applications in the PrintOS platform, including HP PrintOS Box, Site Flow, Print Beat, Media Locator, Substrate Manager, Knowledge Zone, Composer, Imposer, Resource Manager and the PrintOS mobile application.
New features include:
* Customizable dashboards that allow individual management of multiple sites and presses within one account.
* Improved Print Beat functionality via mobile devices to allow production visibility from virtually anywhere. Print Beat now offers expanded press connectivity, more individualized production monitoring—even across multiple sites, increased visibility into job pipelines, key performance indicator analysis to better inform production decisions as well as comprehensive supplies monitoring.
* Simplified job onboarding through non-automated channels like e-mail and file transfer services and a secure file upload portal with PrintOS Box. Box offers new mail management tools to quickly identify and resolve job file issues. It also allows users to impose files, upload and save custom pre-flight profiles within the application and automatically extract and pre-flight ZIP files, saving time and catching common preflight issues before files go to the prepress department for print.
* Additional search tools within the PrintOS Knowledge Zone application to help users find answers to press and prepress questions fast so they can get back into production.
* Improved color consistency for jobs printed on multiple HP Indigo digital presses in one or more locations, enabled by intelligent media profiles.
* Tools within PrintOS Resource Manager for the new HP SmartStream Production Pro version six Digital Front End to ensure critical production resources are backed up and shared across multiple devices.
In addition to support for HP Indigo digital presses, PrintOS now extends connectivity to HP PageWide Web Presses. PrintOS is available at no charge, and once a PrintOS account is established, PSPs can download and open the PrintOS mobile app to see real-time production status and updates on most HP presses. PrintOS is anticipated to be available forHP Scitex and Latex customers in 2017.
Market-leading Customers Leverage HP PrintOS to Optimize Print Production
An open, secure, and integrated cloud-based platform for print production management, PrintOS is ideal for PSPs of any size and segment, and customers worldwide have adopted the platform and its applications to continuously improve their operations and enable new forms of collaboration. MLI Marketing Solutions, a graphic design and marketing company that provides custom in-house digital and conventional printing, is the 1,000th customer to leverage PrintOS to optimize its production.
"Cloud-based data management is revolutionizing how companies do business across all industries, and HP PrintOS is a forward-thinking platform designed specifically to meet the print industry's need for automation and connectivity," said Martin Saavedra Jr., executive vice president, MLI Marketing Solutions. "Leveraging the power of PrintOS for our new HP Indigo 7r Digital Press, existing HP Indigo technology, and traditional print processes will simplify production and allow us to focus on the business data and the results of what we print rather than how jobs get printed. It's a major competitive differentiator."
Salt Lake City, Utah-based Hudson Printing Company is using PrintOS Site Flow to streamline job processing by consolidating and batching book production orders from multiple Web sites, enabling the company to capture new business and additional revenues.
"We were able to capture a new business opportunity that our previous systems couldn't efficiently address, and PrintOS Site Flow allowed us to not only take on that job, but streamline other customers' work as well," said Paul Hudson, CEO, Hudson Printing Company. "With PrintOS Site Flow and HP support, we're automating our job processing system to improve our turnaround times, reduce waste with more optimal batching and address more complex jobs."
Atlanta, Georgia-based Bennett Graphics leverages PrintOS Print Beat to control its press performance and get visibility into real-time, data-driven insights that help them drive continuous improvement in print production operations.
"Efficiency drives profitability, and PrintOS helps us make better decisions, said David Bennett, president, Bennett Graphics. "We use PrintOS Print Beat to monitor press availability and determine when to call for on-site support, and we also review Media Locator star ratings to select the best substrates for jobs. The new PrintOS features are helping us maintain and develop new competitive advantages."
More information about HP PrintOS is available at hp.com/go/printos. Follow HP at Graph Expo onFacebook, Twitter, YouTube, and LinkedIn and by using #GraphExpo.