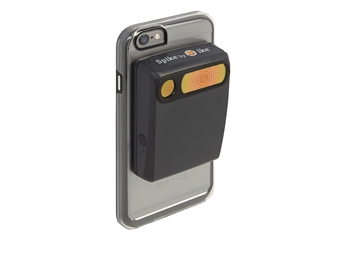 ikeGPS announces a new partnership with the International Sign & Printmakers Guild to offer its 2,700-plus independent sign company members Spike, a laser measurement solution that enables sign professionals to quickly measure a sign or new sign location by capturing a photo using their Smartphone or Tablet and the Spike device.
"Spike is a powerful tool for the sign and digital graphics industry," says Mark Stevens, executive director of the Guild. "With this new measurement technology, sign shops can respond to customer requests for estimations faster and conduct site surveys without the need for additional labor and expensive equipment."
ikeGPS has established co-marketing relationships with the leading sign and graphics franchises in the U.S. market, including Alliance Franchise Brands, AlphaGraphics, FASTSIGNS, Franchise Services Inc., Signarama, and Signworld.
ikeGPS also recently introduced its first U.S. sign supply reseller with Reece Supply Company, which operates eight locations in Texas, Oklahoma, Louisiana, Georgia and North Carolina. Additionally, ikeGPS is quickly expanding distribution outside of the U.S., including a recent Asia-Pacific agreement with technology provider Sektor and American Technology Inc., for distribution in the Philippines.
According to the International Sign Association's 2014 Economic Impact of the Sign and Visual Communications Industry study, conducted by Ernst & Young, more than 200,000 professionals worked in the U.S. sign market in 2012, and the industry as a whole purchased an estimated $10.4 billion in goods and services from suppliers that same year. A report from research organization IBISWorld also finds that the U.S. sign industry is projected to grow to $14 billion a year by 2020.
"Spike adoption within the U.S. sign market has grown rapidly since the beginning of the calendar year," says Jeff Ross, chief marketing officer of ikeGPS. "With new partners, resellers and U.S. and international distributors in place, the potential for Spike in this industry is still mostly untapped."
ikeGPS expects to announce additional co-marketing and reseller partners in the near term. Interested parties should contact ikeGPS at [email protected] to explore go-to-market opportunities.