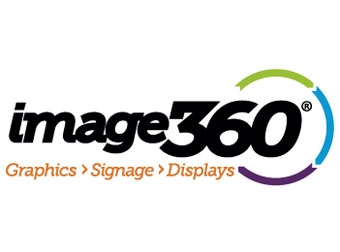 Visual communications franchisor Image360 has experienced significant center growth in the first half of 2016—exceeding its new center count goal for 2015 with movement toward doubling those numbers. With this, Image360 is poised to break sales records for the brand.
Image360 has finalized contracts with six brand new centers in 2016—with opened and planned locations in San Diego, California; Weymouth, Massachusetts; Austin, Texas; Conroe, Texas; Houston, Texas; and Charlottesville, Virginia. In 2015, the company signed new center contracts in Raleigh, North Carolina; Knoxville, Tennessee; Fredericksburg, Virginia; and Apple Valley, Minnesota. With a center count of over 60 centers, the Image360 network comprises both new and seasoned conversion centers, offering a vast wealth of knowledge and experience to franchise members.
"Our sales growth is coming from a mix of both new customers coming on board as well as from an expanded menu of products and services. We see the value of our business continuing to increase into the foreseeable future from offering a broader mix of products and services," explained Image360 President Ray Palmer. "Our brand has opened the market to viewing Image360 as a solutions provider versus a limited-offering company that only provides signage and quick-turn products."
Drawing from more than 25 years of leadership and innovation in the industry, Image360 is one of the premier business-to-business (B2B) franchises, serving the multibillion-dollar market for graphic communication services. Image360 franchise members offer professional visual communication solutions to national, regional and local businesses and organizations, including environmental graphics, mobile graphics, wayfinding solutions and promotional displays. For more information, call (877) 728-7446 or visit www.image360.com.
Image360 is part of Alliance Franchise Brands LLC, a world leader in marketing and visual communications, linking nearly 650 locations in the United States, Canada and United Kingdom with combined annual sales approaching $380 million. The company's Sign & Graphics Division, headquartered in Columbia, Maryland, comprises the Image360, Signs By Tomorrow and Signs Now brands of sign and visual communications providers. The Marketing & Print Division, headquartered in Plymouth, Michigan, comprises the Allegra, American Speedy Printing, Insty-Prints, Speedy Printing and Zippy Print brands of marketing, printing, mailing and Web services providers. For more information about Alliance Franchise Brands, please call (800) 726-9050 or visit www.alliancefranchisebrands.com.