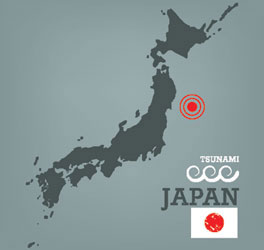 Ever since the 9.0-magnitude earthquake and resulting tsunami devastated Japan on March 11, there has been interest in the sign industry about how we can help, and how this disaster has affected manufacturers and distributors with locations in the country.
Sign Builder Illustrated has compiled a list of companies in the industry who have been affected by the disaster and who have pledged donations to the relief efforts. All of us here at SBI send our thoughts and condolences to all those affected by this natural disaster.
3M reports that all of its 3,000 employees in Japan are accounted for and safe. The 3M facilities in Japan remain intact with only minor damage and IT systems running. 3M is battling with logistics, such as lack of access to roads, shortages of fuel, and utilities. To help surmount these challenges, 3M teams are mapping global supply chain resources to best meet local customer demand.
The Canon Group has sustained damage as a result of the disaster. While the level of damage differs at each Canon Inc. operation site and Canon Group company located in northern Honshu (the area hardest hit by the earthquake), the Company is earnestly taking action to realize the earliest possible start of operations. At this time, however, concrete schedules for when production may resume have yet to be determined.
As for Canon plants and Group companies in the western half of Honshu, while operations resumed as usual on Monday, March 14, the Company is now working to ascertain whether or not there will be any impact on production at each location. And with regard to the Japanese government's requests for cooperation in conserving electricity, in addition to the energy-saving measures Canon promotes as a matter of course, the Company has also called on its employees to make every effort to conserve electricity in their homes.
Canon has established an Earthquake Disaster Recovery Task Force as a result of the damage sustained (Task Force Chief: Chairman & CEO Fujio Mitarai; Task Force Assistant Chief: President & COO Tsuneji Uchida; Executive Director: Executive Vice President and CFO Toshizo Tanaka). The Task Force issued the following instructions toward the promotion of swift response measures:
1. The prompt review and drafting of comprehensive recovery plans, spanning development, production, and sales operations, for relevant operating sites, primarily by persons in charge of each business (chief executives/group executives). The Company's headquarter divisions will provide full support for this effort.
2. With regard to Canon Inc. operation sites and Canon Group companies for which production operations may be suspended for one month or more, the Company will consider making use of alternate sites that were not damaged by the earthquake as a means of continuing production.
The Canon Group is making a donation of 300 million yen to the Japanese Red Cross Society and other humanitarian aid organizations, and will provide supplies as needed.
Shortly after the earthquake, Epson established a Disaster Headquarters headed by President Minoru Usui at its Head Office in Suwa, Nagano Prefecture. The purpose of the Headquarters is to gather information about damage suffered by the Group, and to determine appropriate countermeasures.
Epson has been fortunate enough to report no casualties at this stage. Some of its facilities were affected by the disaster, however:
1. Epson Atmix Corporation (Hachinohe, Aomori Prefecture)
Operations have been suspended as the plant was subjected to a tsunami of approximately one meter. It is not yet known when operations will resume.
2. Akita Epson Corporation (Yuzawa, Akita Prefecture)
Operations have been suspended due to a power cut caused by the earthquake. Damage to the buildings and production facilities were minimal. Epson will carefully confirm plant safety and electricity power supply and is steadily resuming operations from March 14.
3. Seiko Epson Corporation Sakata Plant and Tohoku Epson Corporation (Sakata, Yamagata Prefecture)
Operations have been suspended due to a power cut caused by the earthquake. Although there was no damage to the buildings, Epson is still confirming the state of the production facilities. It is not yet known when operations will resume.
4. Epson Toyocom Corporation Fukushima Plant (Minami-Soma, Fukushima Prefecture)
Operations have been suspended due to the earthquake, and both buildings and production facilities appear to have sustained damage. Operations have been temporarily terminated as the plant is approximately 16 km from the Tokyo Electric Power Company's Fukushima No. 1 nuclear power station, and therefore within the evacuation area. It is not yet known when operations will resume.
Epson will donate 100 million yen to provide assistance to the victims of the earthquake.
FUJIFILM Holdings Corporation, in conjunction with its group companies FUJIFILM Corporation and Fuji Xerox Co., Ltd., has decided to extend a relief package of approximately 300 million yen and 470 million yen of relief supplies including several diagnostic ultrasound systems (Fazone M) and masks for dust and virus protection (AllerCatcher) for those affected by the earthquake.
Also, given the gravity of the situation, the company aims to support less usage of electric power by switching off the outdoor advertising and refraining from non-urgent usage of electricity.
Mimaki headquarters has completely confirmed the safety of its colleagues and their families at all of their factories and offices around Japan, including the Sendai sales office in the Tohoku area. In addition, Mimaki headquarters has also confirmed that its facilities were not affected by the earthquake. However business at the Sendai sales office will be suspended for a while.
Mutoh of Japan has received no substantial earthquake damage to any of its offices in Japan and all employees remain safe. Limited public transportation has caused for a lack of production at Mutoh's headquarters in Shinagawa, Tokyo, its factory in Suwa, Nagano, and its regional office in Northeastern Japan. However due to the limited damage Mutoh's offices received, production will go back to normal as soon as possible.
Roland reports that all of its employees are safe and that there has been no damage to its factories in Shizuoka and Nagano or any of its offices. The company is continuing normal operations and is investigating the effects of the earthquake on business performance. It will make an announcement when the major impact on its business results is anticipated.
Seiko I Infotech Inc. confirms the safety of its employees and their families at all of its factories and offices around Japan, including the Sendai sales office in the Tohoku region. Seiko I Infotech Inc. also confirms that its engineering and manufacturing facilities were not affected by the earthquake or tsunami.
The company is not in a position to return to full-time operation yet, but have resumed operation from March 17 as follows:
SIIT headquarters (Makuhari Office): 9 am-5 pm JST
Takatsuka factory: 9 am-5 pm JST
The above business hours may change if a scheduled electric power shutdown takes place.
SEIKO Holdings Group will donate 20 million Japanese yen to help relief and recovery efforts in effected communities. The company also sponsors matching gift programs and will match charitable contributions made by its employees.
Anyone interested in donating to relief efforts in Japan can do so through the Red Cross: www.redcross.org.